Professional biography
Robert Samuels (b.1962) was educated at Southend High School for Boys and Robinson College, Cambridge. He studied English and Music, graduating with a B.A. in 1985. After a year of voluntary work, he returned to Robinson College in 1986, and graduated with an M.Phil. in Musicology in 1987. He then studied for a Ph.D. in Music from 1987 to 1989, eventually graduating in 1994 with the thesis, Semiotics and Mahler: Analyses of Musical Signification in the Sixth Symphony. In 1989 he was appointed Leverhulme Research Fellow in the Department of Music at the University of Lancaster, and in 1990 he was appointed Lecturer. In 1995 he was appointed Lecturer in the Music Department of The Open University, and in 2011 he was appointed Senior Lecturer. He lives in Oxford with his wife Alison. They have two children: Anna (b.1999) and Ben (b.2002).
Research interests
Music of the nineteenth and twentieth centuries, particularly from the perspectives of music analysis, critical theory, aesthetic history and comparative cultural history (principally exploring the relationships between music and literature). Publications have included studies of Schubert, Schumann, Mahler, Cage, Boulez and Birtwistle.
Robert is a convenor of the Literature and Music Research Group.
In 2014-15 Robert  held a twelve-month Leverhulme Research Fellowship with the project title, "Symphony and Novel in the Long Nineteenth Century".
Publications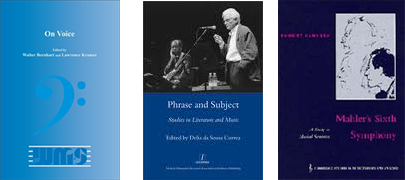 See "Publications" tab above
Dictionary and Encyclopedia entries:
'Schubert' and 'Winterreise', articles for the Encyclopedia of the Romantic Era, ed. C. Murray. Fitzroy Dearborn (2003).
'Musical semiotics', article for the Oxford Companion to Music, ed. A. Latham. Oxford: Oxford University Press (2002).
'Harrison Birtwistle', article for The Penguin Opera Guide, ed. A. Holden. Penguin Viking, Harmondsworth (1993).
Teaching interests
Robert was an author on modules A232: Music, Sound and Technology, A234: Understanding Music, and A342: Central Questions in the Study of Music. He also contributed to the module Certificate: The Practice of Music Making (CPMM), delivered in partnership with Trinity Laban Conservatoire of Music and Dance; he remains a member of the Steering Group for the module.