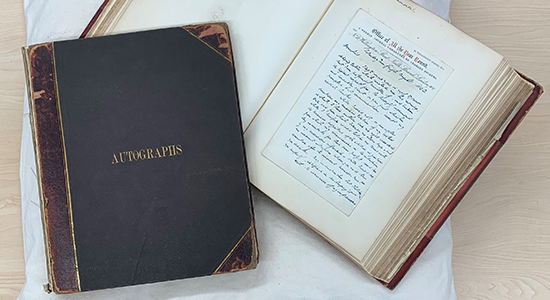 This exhibition showcases letters from the Sampson Low collection held in the Open University Archive. The exhibition has been created by Amanda Saladine, (Senior Archive Assistant), Ruth Cammies, (University Archivist) and James Alexander (Digital Archive Developer) with support from Emma Blowers (Archive Assistant) and Deana Plummer (Licensing Assistant).
Sampson Low (1797-1886) was a Victorian bookseller and publisher whose clients included many notable figures of the nineteenth century from Britain, North America and Europe. The Sampson Low Collection comprises two volumes of over 200 letters written by clients and friends, the majority to Sampson Low himself. The letters have been digitised and transcribed and made available online for the first time. 60 letters are showcased in this exhibition.
Handwritten letters from literary giants such as Charles Dickens and Elizabeth Gaskell, the Pre-Raphaelite artist John Everett Millais and the poet John Clare form part of the collection. There are letters too from notable social reformers and philanthropists including Florence Nightingale and Angela Burdett-Coutts. Writings from scientists, explorers and engineers including Charles Lyell and Sherard Osborn, alongside military leaders and politicians such as the Duke of Wellington are also featured.
The letters give an insight, not only into the publishing world of the nineteenth century, but also their authors' opinions of other clients, charitable organisations, and world events such as the American Civil War and abolitionist movement.
The full collection of letters can be browsed from the collection page.
The Archive Team would like to thank the Low family, without whom this exhibition could not have been created.