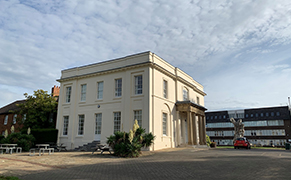 Walton Hall has been the home of The Open University since 1969. This online exhibition is an exploration of the history of Walton Hall, St Michael's Church, and the surrounding estate prior to its purchase by the OU.
The exhibition is divided into six broad themes. The first focuses on the parish of Walton's Roman, Medieval and Tudor history. Themes two to five journey through the seventeenth to the twentieth centuries, exploring the lives of the owners and residents of the Hall and the changes made to the buildings over these centuries. The final theme focuses on the lives of the parishioners buried in the churchyard of St Michael's.
The exhibition has been created by Amanda Saladine, Senior Archive Assistant. Thanks to Peter Barnes (former OU staff), Nigel Benford (local resident), Jenny Blane (former resident of Walton Hall) and Tabatha Barton (MK Museum Archaeological Curator & Collections Conservator) for their invaluable input and assistance.
The full collection of almost 300 historic and recently photographed images relating to Walton Hall can be browsed from the collection page.
Do you have any photos or stories about Walton Hall's history? The Archive would love to hear from you. Please contact us at university-archive@open.ac.uk.