Stuart Hall
Remembering Professor Stuart Hall (1932-2014)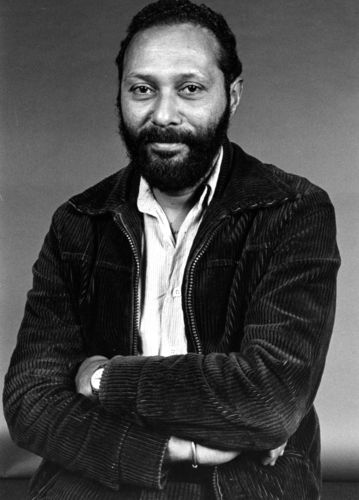 | | |
| --- | --- |
| Image : | Stuart Hall |
| Date: | 1985 |
| | |
| --- | --- |
| Clip: | Stuart Hall and OU Research |
| Duration: | 00:02:51 |
| Date: | 23-06-1990 |
Perhaps one of the most celebrated academics and researchers in the first 50 years of The Open University was Professor Stuart Hall. He joined the OU in 1979 from Birmingham University as Professor of Sociology, and was known as one of the leading theorists in the field of cultural studies – particularly with regard to the concepts of race, identity and multiculturalism.
His reputation was global, and he was known as an excellent speaker, presenting many OU TV programmes for students. He published dozens of books and articles in his area of research and was also a campaigner for racial justice.
An example of Professor Hall's work is the article "Teaching Race" which was first published in 1980. Details of the article appear on the Taylor and Francis website. The full article is available to view here.
He retired from the OU in 1997, and a new building on the Walton Hall campus was named in his honour in 2002. A feature-length documentary film on his life and work, "The Stuart Hall Project" was released in 2013, and when he passed away in 2014, then Vice-Chancellor Martin Bean said in tribute:
"It was a privilege to have Stuart at the heart of The Open University – touching and influencing so many lives through his courses and tutoring. He… embodied the spirit of what the OU has always stood for: openness, accessibility, a champion for social justice and of the power of education to bring positive change in peoples' lives."
In the video clip on this page, Stuart Hall discusses the connection between his own research and his teaching output for The Open University.