John Horlock
The latest feature in our series about pioneering staff of The Open University takes a closer look at the OU's second Vice-Chancellor Sir John Horlock (1928-2015)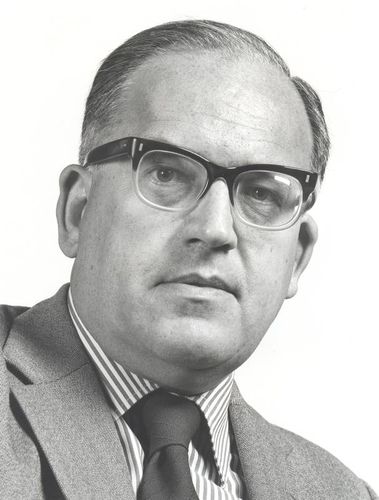 | | |
| --- | --- |
| Image : | John Horlock |
| Date: | 1981 |
| | |
| --- | --- |
| Video: | Open Forum 81 (1983): Meet the Vice Chancellor |
| Duration: | 00:24:21 |
| Date: | 1983 |
The latest feature in our series about pioneering staff of The Open University takes a closer look at the OU's second Vice-Chancellor Sir John Horlock (1928-2015)
Sir John Horlock served as Vice-Chancellor at The Open University from 1981 to 1990. He was born in 1928 in Edmonton, North London. He attended Latymer School, then Cambridge University, where he gained a first in mechanical sciences. Sir John worked briefly at Rolls-Royce on aero-engine design before returning to Cambridge to gain a PhD in 1958.
Sir John left Cambridge to become Professor and Head of the Mechanical Engineering Department of Liverpool University, returning to Cambridge as Professor of Engineering in 1967 where he founded the Whittle Laboratory. In both roles he is credited with educational innovations to improve both research and teaching. His academic work on gas turbines, compressors and the jet engine made him a leading figure in a field which transformed transport across the world. In 1974 Sir John became Vice-Chancellor of the University of Salford, which had only become a University in 1967 and it made major progress under his leadership.
Sir John joined the Open University in 1981 following the retirement of the OU's first Vice-Chancellor Sir Walter Perry. Sir John's commitment in the field of continuing education, particularly in science and technology, was seen as one of the factors leading to his appointment. As a member of the Finniston Committee looking at the engineering profession, he was very keen to strengthen the OU in the areas of science and engineering. As well as leading the battle against the government over funding cuts, he also ensured the introduction of a taught Postgraduate Masters programme, oversaw the opening of the Open Business School in 1983 and the expansion of the OU into Western Europe.
After retiring from the OU in 1990, Sir John was appointed Treasurer and Vice-President of The Royal Society for five years and was knighted for services to science, engineering and education in 1996. He died in May 2015. Following his death the OU Vice-Chancellor Peter Horrocks, said:
"John Horlock's successful leadership of The Open University at a critical time in its history will never be forgotten. We are very proud that he was our Vice-Chancellor, so closely associated with the development of the OU in what was a long and distinguished academic career."
The Horlock building on the Walton Hall campus was opened in 1989. It houses the Faculty of Well-being, Education and Language Studies (WELS). The Association of Open University Graduates established the John Horlock Award for Science in 1991.