| | |
| --- | --- |
| Audio clip: | Alan Turing: Reflections on his personal life |
| Duration: | |
| Date: | 2012 |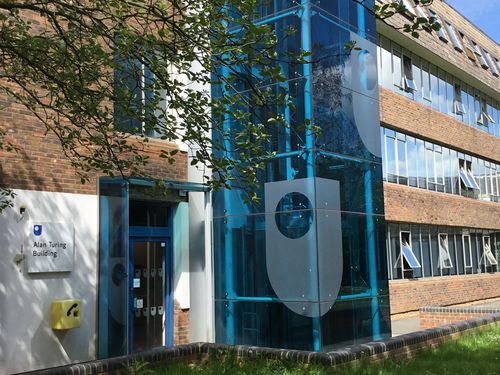 | | |
| --- | --- |
| Image : | Alan Turing Building |
| Date: | 2018 |
26. Alan Turing Building
The Mathematics block was built in 1973. In 2010 it was officially re-named the Alan Turing Building at a ceremony attended by Alan Turing's nephew, Sir John Dermoy Turing. Alan Turing (1916-1954), described as 'the father of computer science', was a mathematician, logician, cryptanalyst and computer scientist who was a main participant in the code-breaking work at Bletchley Park, located not far from the OU campus.
During the naming ceremony for the building the OU Vice Chancellor Martin Bean said:
"The plaque on this building serves as a reminder to everyone, every time they walk through these doors, that we draw inspiration from a brilliant man whose life was tragically cut short at such a young age."
The audio track on this page is the first of four tracks about Alan Turing available on OpenLearn, entitled Alan Turing: Life and Legacy. In this initial track Professor Timothy Chappell looks at key moments in Alan Turing's life.
More information about Bletchley Park can be found on the Codebreakers of Bletchley Park page of OpenLearn.
The image shows the Alan Turing Building.
Alan Turing to Gass (page 1 of 3)