| | |
| --- | --- |
| Audio: | Leaving the Labour Party |
| Duration: | 00:01:08 |
| Date: | 1982 |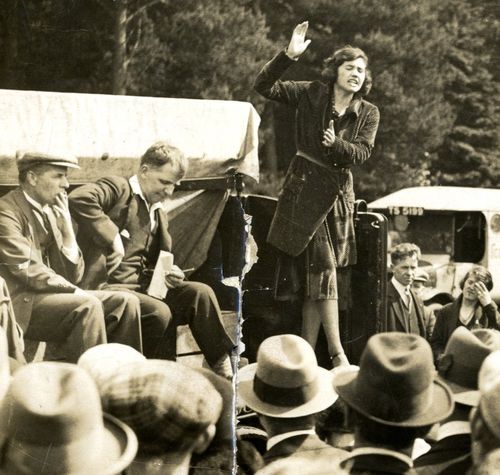 | | |
| --- | --- |
| Image : | Jennie Lee speaking in 1930 |
| Date: | 1930 |
Following the Wall Street Crash in 1929 and worldwide great depression, the Labour Government found itself in crisis. It collapsed in 1931 and Ramsay MacDonald formed a National (Coalition) Government. An election was held in October 1931, won by the National Government which was largely made up of Conservative MPs. ILP (Independent Labour Party) members and many in the Labour Party viewed MacDonald as a traitor to the party and he was eventually expelled.
After less than two years as an MP, Jennie lost her seat in North Lanark in the 1931 election. Among the archive documents in the collection for this time, are newspaper cuttings of the campaign, and also Jennie's reaction to the defeat – shown through a letter she wrote to a friend.
This short quote from this letter shows Jennie's feelings about the defeat:
"All along I have been mentally & emotionally adjusted to defeat in North Lanark… I am terribly, terribly sorry about those stalwarts who worked... through all the rain, and for the moment are simply broken."
In 1932 a special conference of the ILP voted to disaffiliate from the Labour Party and Jennie went with them. The audio clip on this page was recorded during an interview with Jennie in 1982 for the BBC. In it she talks about the ILP's disaffiliation from the Labour Party in 1932 and her decision to go with them.
The photograph on this page shows Jennie speaking at an ILP gathering in Garrison Bridge, West Scotland in 1930.
Outside Parliament 1931-1945 (page 1 of 4)