| | |
| --- | --- |
| Audio: | Post 1945 with Nye |
| Duration: | 00:01:38 |
| Date: | 1982 |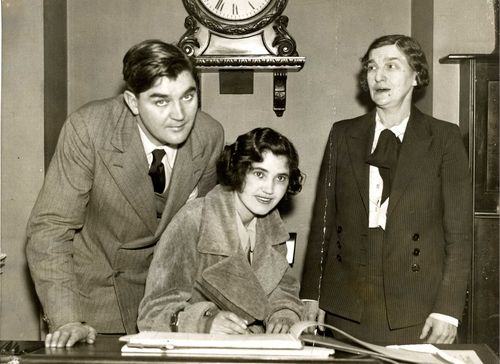 | | |
| --- | --- |
| Image : | Jennie Lee and Aneurin Bevan signing the marriage register |
| Date: | 1934 |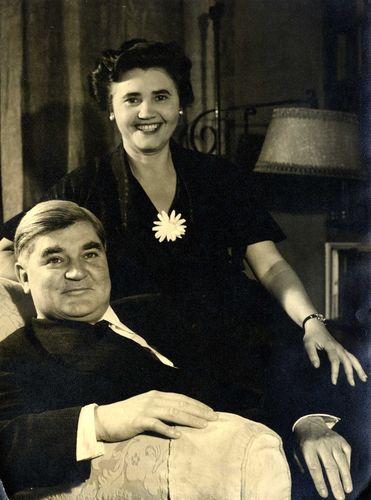 | | |
| --- | --- |
| Image : | Jennie Lee and Nye Bevan c.1950 |
| Date: | 1950 |
Aneurin 'Nye' Bevan was born in 1897 in Tredegar, South Wales and, like Jennie, came from a mining family. At the age of 14 he began work in the pits. He read widely and, after becoming a major figure in the Labour Movement, became MP for Ebbw Vale in 1929. In that year, Jennie and Nye first became friends as new MPs.
Nye moved in with Jennie during the summer of 1934 and on the 25 October 1934, they were married at Bloomsbury Register Office in a quiet ceremony. Press articles about the wedding are brief – with one of them mentioning that "no ring was used".
The first photograph on this page taken of Jennie and Nye signing the marriage register, is one of a number of images of Nye, and Nye and Jennie together within the archive collection.
The second photograph is a publicity shot of the couple taken around 1950. In the Archive there are also newspaper clippings and other papers relating to Nye's career, as well as correspondence between them during their marriage.
At the beginning of their marriage Jennie was the more well-known of the couple. This was to change during the late 1940s and 1950s, as Nye's profile was raised having been given responsibility for housing and health in the government and, of course, for his role in the creation of the National Health Service (NHS) which was launched in 1948.
During this time Jennie's political career took a back seat as she supported Nye in his work. In the audio clip on this page, recorded for the BBC in 1982, Jennie reflects on this period in their careers.
Jennie and Nye (page 1 of 3)