| | |
| --- | --- |
| Audio: | NHS letter |
| Duration: | 00:01:43 |
| Date: | 1950 |
| | |
| --- | --- |
| Audio: | Cannock constituency |
| Duration: | 00:01:57 |
| Date: | 1950 |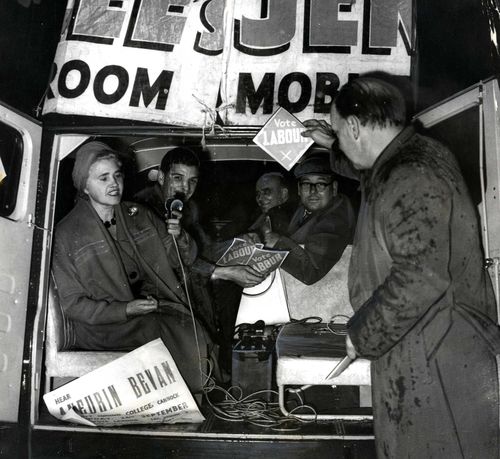 | | |
| --- | --- |
| Image : | Jennie Lee campaigning in Cannock |
| Date: | 1959 |
After the war ended in 1945, Winston Churchill called for a general election which would end the war-time coalition government.
Jennie wanted to get back into government and the constituency of Cannock in Staffordshire needed an MP. It was a fairly strong Labour seat and had a large mining community. Jennie was chosen as the candidate and won nearly 49,000 votes over her main opponent's 29,000.
On this page you can see a photograph showing Jennie's travelling "committee room" the back of a truck – which protected Jennie and her team from the rain.
The two audio clips on this page are from interviews that Jennie did in 1950 for American radio. In the first clip she reads a letter from a constituent written to her husband Aneurin Bevan who thanks him for the NHS (National Health Service), and in the second she describes the lives of some of the women in her constituency of Cannock.
Jennie remained as MP for Cannock for 25 years and during that time, collected a large amount of material which has been preserved within the Archive collection. Materials include photographs, correspondence files regarding constituency matters, newspapers cuttings and local publications.
Post war politics - Jennie Lee MP (page 1 of 1)