Jennie Lee
To mark International Women's Day 2019 we are remembering Jennie Lee, one of the founders of The Open University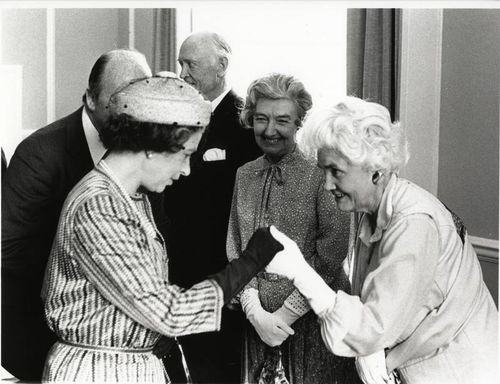 | | |
| --- | --- |
| Image : | The Queen and Jennie Lee |
| Date: | 1979 |
| | |
| --- | --- |
| Image: | Jennie Lee |
| Duration: | 00:01:31 |
| Date: | 1973 |
Jennie (Janet) Lee was born in Lochgelly, Fife, on the 3rd November 1904. Jennie became interested in politics at an early age. She attended Edinburgh University as a trainee teacher in 1922 and remained there for five years. In 1929 she was nominated by the Labour Movement in Shotts as the ILP candidate for North Lanark and she stormed to victory. At 24 she was to be the youngest member of the House of Commons.
In 1934 Jennie married Aneurin 'Nye' Bevan (1897-1960). Following Labour's win in the 1964 General Election, Harold Wilson appointed Jennie Minister for the Arts and additionally tasked her with his university of the air project.
Without Jennie Lee it seems likely that Harold Wilson's idea would have failed. Her total commitment and tenacity gradually wore down the mountains of hostility and indifference that she faced.
Jennie initially took the role of chairperson of the Advisory committee for the project. This group created a White paper recommending that a planning committee for the university should be created. This was done and The Open University gained a Royal Charter in 1969.
Jennie Lee's role in creating The Open University was acknowledged in 1973 when the first Library building on the OU Walton Hall campus was named after her. She was one of the honorary graduates at the first OU graduation ceremony held at Alexandra Palace.
The video clip shows Jennie Lee at the event to lay the foundation stone of the Jennie Lee Library at the OU Walton Hall campus in 1973. The Institute of Educational Technology is now located on the same site within the second Jennie Lee Building.
The image shows Jennie meeting Her Majesty The Queen during the Queen's visit to the OU campus in 1979.
Watch Jennie Lee's OU staff club lecture from 1975 to find out more about her role in the creation of the OU.
The Jennie Lee archive collection is held within the University Archive on the Open University campus in Milton Keynes. Her papers consist of over 100 boxes of materials, ranging from her early school years, her personal life and political life. To request a copy of the catalogue or to arrange to view the collection contact the Open University Archive team at university-archive@open.ac.uk