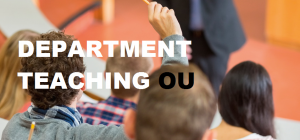 Pedagogic Context
I continue here with the argument of the earlier posting on Direct and Mediated Contact in Literary Pedagogy. I do so at a similar level of generality, without as yet nuancing the argument along the lines of Richard's Response (for which I am grateful).
Effective teaching and learning of literature – and of other Humanities areas – depend upon a shared awareness of the pedagogic context among teachers and students. In other words, teachers and students need common reference points for the cultural context within and with reference to which pedagogy is undertaken. Conventionally this has been ensured by direct contact, grounded in the culture of the classroom or peer group, of a university, of a geopolitical location, and so on. When pedagogy is undertaken through mediated contact, typically through digital means, those conventional markers of the pedagogic context are dispersed. Each student and teacher meeting on a forum may be located in vastly different cultural and linguistic contexts, without the conventionally shared reference points to inform their pedagogic engagement. Hence a question: in mediated-contact literary pedagogy then, what features of a shared culture could inform teaching and learning? It is necessary to pause on this question instead of rushing into 'strategic transformations' from direct- to mediated-contact pedagogy. That was the gist of the argument made earlier.
The obvious answer to that question is: literary pedagogy would need to draw upon the shared culture afforded by the internet, the online forum, the digital form themselves – that is, the culture that has developed around the means via which mediated-contact pedagogy is conducted. Let's call this the culture of a digital habitus. There are complex negotiations of linguistic, regional and social difference involved in the digital habitus. Numerous scholarly publications have explored these, and research is ongoing. There is, however, comparatively little research into the particular sort of digital habitus of interest here: the digital pedagogic habitus, within which mediated-contact teaching and learning is done. As observed in the previous posting, the drivers for scholarship have focused on how to do it (hurriedly and cheaply) rather than on what it involves for disciplinary practices (thinkingly). Scholarship into the digital pedagogic habitus wherein literary teaching and learning might be effectively done is very thin indeed. That could be a meaningful dimension of the otherwise nebulous buzzwords 'digital humanities' so beloved of university managers, research funders and HE policy makers.
Contemplating literary studies apropos of the digital pedagogic habitus necessarily calls for some grasp of the architecture of that habitus. That is, teachers and students need a shared sense of this habitus' underpinning technological and sociological principles, the various agencies involved in it, its economic arrangements, the legal regimes governing it, the distinctive communicative practices it has engendered, etc. These are yet to be inculcated within literary pedagogy to any significant degree. But emerging scholarly frameworks could be productively recruited for the purpose, especially from analyses of 'the posthuman' and of e-literature ….
… I had intended to set forth tentatively in that direction for this posting. But I took a break and went for a leisurely chat instead with a former student in the university café. Several years of direct-contact pedagogy preceded these regular meetings, liberated now from pedagogic aims and objectives. These meetings are rituals of friendship now, and I look forward to them. So, I put the above thoughts to my former student, and he raised a few posers, and I mulled them, and he dissected my mullings, and a bee was set buzzing in my bonnet. The idiomatic bee hovers before the project of exploring the digital pedagogic habitus, and this posting is addressed to its buzzing.
Data Matters
The exchanges involved in direct-contact teaching allow for necessary transience and forgetting, much as in everyday exchanges – as in friendly conversations in a café. The detritus of irate remarks, inadvertent and misjudged comments, ill-expressed sentiments, lapses of memory, errors, talk at cross purposes, incomprehension and so on are largely negotiated out of existence through communicative exchanges to leave teachers and learners with a mutual crystallization of what is relevant. Space is made for these mishaps to be accommodated and to be forgotten gradually in the process of direct-contact pedagogy. There is an agreement between teachers and students and the institutions providing the pedagogic space that those mishaps are inevitable, and overcoming them is what teaching and learning consist in. It is also understood that pre-agreed junctures will be appointed wherein a record of performance will be knowingly obtained – that's the assessment juncture. The periods, contents and rules of assessment are clear to all parties. Performance is evaluated at the pre-agreed junctures. The rest of the learning process, with its inevitable mishaps, remain unrecorded. In brief, a 'right to forget' some parts of the process of direct-contact pedagogy is built into educational programmes – that is, a right for students and teachers. Those unrecorded parts are left, as everyday conversations are, to the vagaries of living memory. This foreknowledge gives both students and teachers confidence in the integrity of the programme they engage in.
Mediated-contact pedagogy through digital interfaces necessarily comes with the possibility that nothing will be forgotten, that all exchanges will be recorded. Digitization is for recording and is in itself a formation of record. It is a mode of disposing all information that passes into its form such that it can be easily stored, retrieved, and transferred. Thus every text that is digitized, every exchange on a digital forum, anything that is input or uploaded in any programme (whether networked or in-house, publicly accessible or secured) is immediately a record, already recorded and retrievable. Mediated-contact pedagogy takes place, then, in an environment of potentially total recall and absolute accountability. The only kind of forgetting and transience that is possible is by the voluntary act of deletion; and it is also possible that any part of that record can be modified by a voluntary act. However, in mediated-contact pedagogy the ability to delete or modify the record of exchanges is largely not in the hands of the main digital interlocutors, the students and teachers. It is usually in the hands of the institutions that administer pedagogic programmes: university managers and those who maintain the university's servers. The digital record of what teachers and students say and write is not owned by them, it is owned by universities – and it is a total record that the university, as an institution, can use in various ways. It is exploitable data.
From a student's perspective, two kinds of data can be elicited by the university from the record that accrues through mediated-contact pedagogy. On the one hand, data to profile each student individually can be obtained. This data may potentially incorporate information which the student didn't intend for recording or would prefer to be forgotten. On the other hand, data to profile cohorts of students collectively in relation to various factors may be obtained. This sort of data appears to be of little concern to students since individuals are anonymized or lost in aggregates. However, such data may be used in ways which do concern all students. For instance, such data may be used to design or engineer the performance of cohorts in ways which are not obvious in the ostensible rules and mutual agreements of assessment. Such data may also be used to structure public perceptions, design entry and learning pathways, massage the student experience, and attract investments in various ways which neither students nor teachers may be aware of – may not consent to if they were.
Insofar as a student may exercise some prerogative on data relating to herself individually, the prerogative is usually legally enjoined by requirements of 'information disclosure', erasure upon request, or consent for use, and a promise of maintaining the security of such data. This calls for considerable awareness of what sort of individual data may be generated and held, and anticipation of how it may be used. Active intervention from the student is necessary to find out what individual data is held and seek its removal, akin to actively unticking an option which has been ticked in advance by a service provider.
Insofar as collective data are held there are no significant legal provisions to enable students – or teachers – to be informed. It is considered that such data are the university's business and property.
In all cases, much depends on students trusting the integrity of the university apropos of the use of such data, in the absence of any proprietor-like control on their own part. However, universities are now necessarily rival institutions in many respects, competing with each other to meet targets in the 'student market' and vying for limited resources from funders. Some sceptical students might feel that competitive interests could possibly supersede responsibilities to students or teachers.
Similar considerations apply regarding such data from the teacher's perspective.
These are significant considerations since the integrity of any educational programme depends upon mutual understanding between students and teachers, clarity regarding the assessment process, and conviction in transparent institutional support. Students need to feel they are in possession of their learning to be able to engage in the pedagogic process with conviction. It is critically important to institute procedures for ensuring that the integrity of the pedagogic process is unquestionable at the commencement of any programme with mediated-contact pedagogy. That involves giving comprehensive advance information for students and teachers on data generation and usage, and making robust arrangements for protecting students' (and teachers') interests. External regulation, audits and open-to-public reports on how institutions gather and use data – both individual and collective – would help garner the confidence of students in mediated-contact pedagogy. Such regulation is also necessary for quality assurance of educational programmes in the digital habitus.
Insofar as mediated-contact literary teaching and learning goes, wherein the digital pedagogic habitus needs to be explicitly in view, understanding the ins and outs of data elicitation and usage is as much a scholarly obligation as a practical necessity. That's where engagement with the culture of the digital pedagogic habitus could begin.