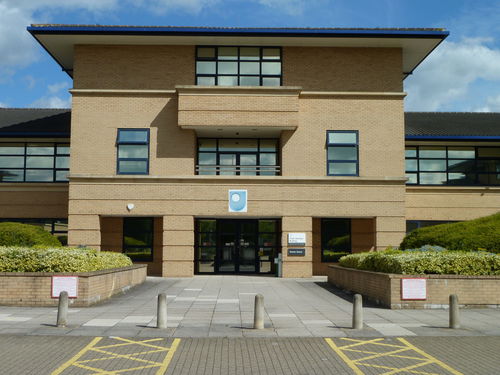 | | |
| --- | --- |
| Image : | Frank Henshaw Building |
| Date: | 2011 |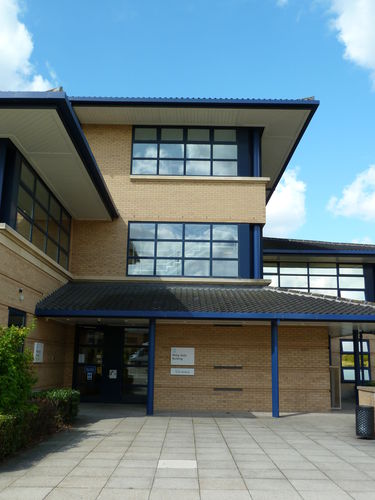 | | |
| --- | --- |
| Image : | Philip Sully Building |
| Date: | 2011 |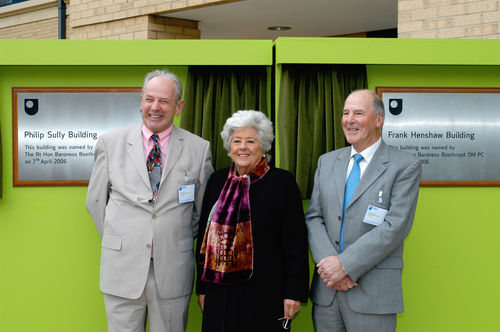 | | |
| --- | --- |
| Image : | East Campus Buildings Naming Ceremony |
| Date: | 2006 |
32. Wolfson Building
The Earth Sciences extension to the Gass Building, named the Wolfson Building, was opened in 1993. The Wolfson Foundation helped to finance the building of the extension. The foundation, founded in 1955 by Sir Isaac Wolfson (1897-1991) and his family, is a charity that awards grants to support excellence in the fields of science and medicine, health, education, the arts and humanities.
East Campus Buildings
The OU's East Campus was originally built as the Milton Keynes branch of De Montfort University and was opened by the Queen in 1992. De Montfort University withdrew from the site in 2003. In April 2006 the site was officially opened as The Open University's East Campus by OU Chancellor Betty Boothroyd. It houses much of Academic Services.
Originally, the three buildings on the site were named after people associated with De Montfort University - the Green, Edwards and Henshaw Buildings.
33. Frank Henshaw Building
Frank Henshaw, while being associated with De Montfort University, also has links with The Open University. He was a member of Council between 1994 and 2002 and Chair of the Estates Committee from 1995 to 2002. It was decided to retain the name of the Henshaw Building.
34. Philip Sully Building
Philip Sully is a prolific OU student. By 2006 he had completed a total of 61 courses including a Masters, PhD and two degrees.
The first image shows the Frank Henshaw Building. The second shows the Philip Sully Building and the third shows Baroness Boothroyd with Frank Henshaw and Philip Sully at the campus opening ceremony in 2006.
Wolfson to Chambers (page 1 of 3)