Time to Think
(page 2 of 3)
Online exhibition theme created by Jenny Meegan, Philip O'Sullivan and Gabi Kent - members of the OU Time to Think Project team
Skip to description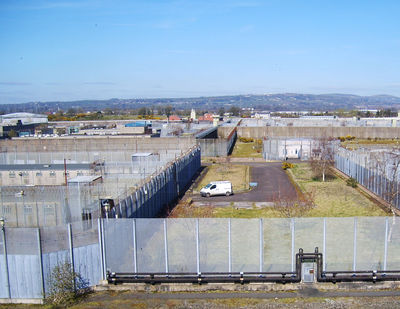 | | |
| --- | --- |
| Lorcan Fairmichael Image : | The Maze and Long Kesh |
| Date: | 2011 |
| | |
| --- | --- |
| Philip O'Sullivan clip: | We learned as we went along |
| Duration: | 00:02:31 |
| Date: | |
| | |
| --- | --- |
| John D'Arcy clip: | The power of education |
| Duration: | 00:02:17 |
| Date: | |
The Time to Think Oral History project was first initiated in 2010 by Senior Faculty Manager Jenny Meegan, who had tutored in the prisons, John D'Arcy, National Director of The Open University in Ireland, and other colleagues from the OU in Ireland. The project was first devised in 2010 to tell a little-known story of Open University study by men in the H blocks and Compounds of the Maze Long Kesh Prison and women in Armagh and Maghaberry Prisons. The project was originally linked to a proposed Peacebuilding and Conflict Resolution Centre on the site of the former Maze and Long Kesh Prison. In 2013 the proposed Centre was halted by the then First Minister of Northern Ireland Peter Robinson. The oral history project continued, however, with the aim of telling this unusual OU story from the perspectives of all the different people involved. As it developed it also included interviews with Republican and Loyalist students in other prisons in Britain and Ireland.
At that time there was a blossoming of oral history projects about life during the Troubles from a whole variety of points of view... And so I suppose in the mix of the range of stories that were being told about life during those thirty years of conflict or the Troubles here, this was something which was quite particular but maybe hadn't really been told.
Jenny Meegan, 2016
From the beginning the project aimed to be collaborative - where students and tutors would have an opportunity to interview each other. Initial meetings were held with key ex-prisoner organisations, prison staff and OU staff and tutors. The project team also drew on their experiences of having been involved with the Stories Network of Belfast based Healing Through Remembering and of the Prisons Memory Archive, a collection of 175 filmed walk-and-talk recordings with those who had a connection with Armagh Gaol and the Maze and Long Kesh Prison.
The first interviews were recorded in 2011. Philip O'Sullivan, Staff Tutor in the OU's Belfast Office and co-lead on the project, describes how the project evolved on the first audio clip on this page.
Over the next 9 years the collection grew, and the project and collection was renamed "Time to Think" in 2018. In the second clip on this page John D'Arcy explains how the collection has become an invaluable resource and reflects more broadly on the power of education.
Time to Think (page 2 of 3)