Patricia Ferguson, PhD Student, Department of English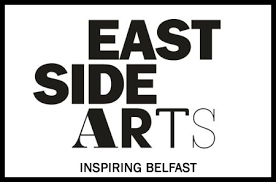 The Director of the EastSide ArtsFestival writes, in the brochure's welcome page: '…if this part of the city is your home, the festival is our annual invitation to you to celebrate and enjoy the creative energy that surrounds you. If you're a visitor, let us be your hosts; you will receive the warmest of welcomes'. I am a visitor, and the welcome could not have been warmer. A Big Top has gone up in C. S. Lewis Square for circus events, family fun, and evenings filled with music. There are venues for authors to give readings of their poetry and prose, guided walks and bus tours, one hundred and twenty six events in all! Choosing between so many is not easy, but I decide in favour of readings and walking tours because, as the welcome page points out, the inspiration comes from 'the landscape, history, culture and above all, people of east Belfast'.
These four go together because, as I see for myself on the two walking tours, in every part of east Belfast, from the working class terraces of Newtonards Road ('Communities Shaped by Conflict') to the detached houses and gardens of Belmont and Sydenham, ('C. S. Lewis Walking Tour') the landscape is dominated by history and culture in two forms, and these likewise belong together. Look around you anywhere in east Belfast, and on the skyline you will see Samson and Goliath, Harland & Wolff's enormous, bright yellow gantry cranes, and lining every street you will see Loyalist flags. Harland & Wolff grew from small beginnings in 1861 to an enterprise which, by 1919, owned 220 acres, employed 22,000 people, but was plagued by sectarianism.[1]  'The shipyard workers identified with a Protestant state for a Protestant people'. Catholic workers were expelled, violence followed so deadly that in 1969 'Catholics whose homes had been attacked when they were children found themselves being attacked again in what seemed like a re-run of the 1920s pogroms'.[2]
As on the one side, so on the other. On the 'Conflict' walk we visited the Andy Tyrie Interpretive Centre, an Ulster Defence Association museum named in honour of one of its earliest commanders. The Tyrie family was one of many Protestant households forced out of their homes by Catholics. As time went on Andy came to realise that the way forward must be political, but many others did not. He himself narrowly escaped death in a car bomb attack set by UDA hardliners in 1988.[3]  As we leave the museum, still reflecting on these things, a different guide – as it must be, even in 2018 – takes us a mere yard or two into a different world. This is Bryson Street in the Short Strand, a Catholic enclave of around 3,000 people surrounded by the 60,000 Protestants of Inner East Belfast.[4]  This is where in August 1971, as a consequence of the internment debacle, the residents had to flee while the wall went up, destroying houses to partition the streets. A headline in the Irish News for 12 August 1971 reads: 'Bryson Street Dies in "Scorched Earth" exit'. Although I am Catholic myself, I am glad not to be alone here; forty years have gone by, but the fear and suspicion remain.
This is an Arts Festival. Can the mere act of painting, or writing plays and poetry, have any healing properties? Shelley Tracey, who read to us from her new collection of exquisite lyrical poems ('Prose, Poetry, and Pastries') told me about an oral history project of her own which demonstrates this very clearly.[5]  The Prison Arts Foundation provides Northern Ireland's prisons with mentors, writers, and artists-in-residence 'to release the creative potential of those previously excluded or from marginalised communities, as well as those serving custodial and community sentences'. (p. 10) This fits perfectly with the concept of the Restorative City discussed at the Imagine! Festival earlier in the year. I am especially moved by 'SG', a young man whose experiences in helping to create a Holocaust Museum at Magilligan transformed his prejudices into 'a desire to communicate the importance of tolerance and acceptance'. (p. 7) He came to understand that 'dehumanization can start even by calling people names'. (p. 41)
It is 'ZM', however, who has me in tears. She is out of prison now and thriving, except that she uses an alias because of 'the people who wouldn't want me to be doing OK'. I become aware that this malignant mindset, all too common and constantly aggravated by social comment, is a stain in my own heart too. One of Hickey's respondents described this barrier in the mind as 'the point of no return'. (p. 43) Belfast's festivals provide an antidote: they show that, against all the odds, barriers can be dismantled, a point of return can be found.
[1]     'Harland and Wolff', in Grace's Guide to British Industrial History <https://www.gracesguide.co.uk/Harland_and_Wolff> [accessed 25 August 2018]
[2]     Kevin Johnson, Irish Times, 29 November 2008 <https://www.irishtimes.com/news/sectarianism-and-the-shipyard-1.916936> [accessed 25 August 2018]
[3]     Belfast Telegraph, 15 September 2002 <https://www.belfasttelegraph.co.uk/imported/struggle-for-power-within-uda-28130828.html> [accessed 25 August 2018]
[4]     Rosalind Hickey, Reflected Lives: Intergenerational Oral Histories of Belfast's Peace Wall Communities (Belfast: Belfast Interface Project, 2018), p. 15
[5]     Shelley Tracey, Building Foundations for Change through the Arts: An Inquiry into the Impact of Participation in Prison Arts Foundation's Programmes (Belfast: Prison Arts Foundation, 2017)