By Emily Dowdeswell
I am a research student in the Faculty of Wellbeing, Education and Language Studies of the Open University. I am also a member of the Rumpus research group. My expertise focuses on art, creativity and learning.
My doctoral research project explores children's narratives about their everyday classroom. I will be examining what 9 to 10-year old students think about 'fun' and 'learning' in the school. I am interested in the meaning and relationships between fun and learning expressed by preteens.
My master's study was a pilot for my project. It revealed the frequent use by children of the word 'fun' to describe positive learning experiences. These findings encouraged me to seek better understanding about the value of fun for children's learning.
The Open University Poster Competition was a great opportunity to communicate my study to others.  Having attended the poster workshop delivered by the Graduate School, my design centred on the idea that with graphic representation, less is more.
Unfortunately, fun in learning is currently a complex and slippery concept that resists easy definitions and models. My supervisors advised focusing on one aspect of the study.  Therefore, my poster presents some key findings of my literature review in order to show where the gap lays.
My work sets out the importance of education in the UK, the ubiquity of fun in accounts of learning and the contrasting lack of established framework for fun in learning.
It  describes how the existing literature is dominated by adult perspectives in order to show the need for a focus on children's perspectives.  My poster was awarded on the  5 top list.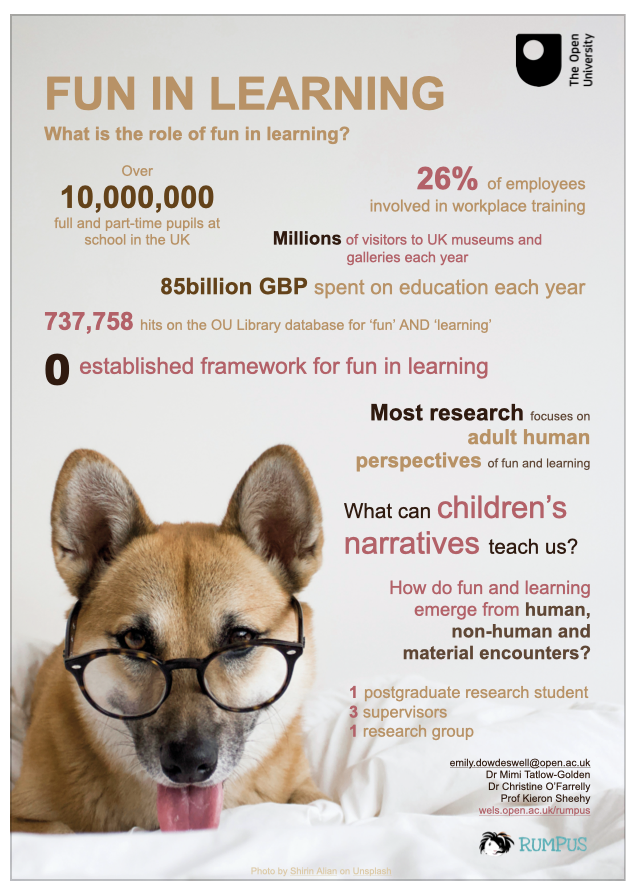 The poster's most appealing feature, however, was the cute photo of a dog wearing glasses. My approach will interrogate how fun and learning emerges from human, non-human and material encounters. This gave me the perfect excuse to to look for a fun photo on Unsplash.
A dog wearing glasses may not be a sufficient condition for fun in learning, but it certainly helps make a fun poster!
WELS research students snag top places in Poster Competition
Several postgraduate students from WELS participated in the 15th OU Research Students' Poster Competition. An online awarding ceremony on 10th June announced the following winners:
Judges' Choice – Winner: Claire Saunders (ECYS) – Building a community of writers in a university (click image to view)
People's Choice Multimedia – 3rd Place: Emily Dowdeswell (ECYS) – Fun in learning (click image below to view animation)
Community Choice – Equal 4th Place: Shi-Min Chua (IET) – Starting a conversation in online discussion and Emily Dowdeswell, PhD student (ECYS) – Fun in learning
Many congratulations to everyone who took part!