Supporting Responsible Research and Innovation (RRI) and fun in learning
http://oro.open.ac.uk/71015/
Okada, Alexandra; Quadros da Rosa, Luziana and Vieira de Souza, Marcio (2020). Open schooling with inquiry maps in network education: Supporting Responsible Research and Innovation (RRI) and fun in learning. Exitus, 10(1), article no. e020053.
DOI: https://doi.org/10.24065/2237-9460.2020v10n1ID1219
URL: http://ufopa.edu.br/portaldeperiodicos/index.php/r…
Abstract
This article discusses the open schooling approach which has been promoted by the European Commission for preparing learners in cooperation with partners to develop real-world issue projects and shape a desirable future together. This approach is designed to engage all participants with RRI – Responsible Research and Innovation (EC, 2015). The objective of RRI is to align research and innovation with societal needs and sustainable development goals (UNESCO, 2015) through the interaction of researchers with society. Open schooling for RRI is considered an interactive approach to help youth develop knowledge, skills, attitude and values for the 21st century. This study presents some contributions of using inquiry mapping (OKADA, 2006) as a participatory research-action method to engage multi-partners in an open network. This exploratory study supported by a set of examples from the literature provides recommendations for developing inquiry-maps for open schooling in network projects and facilitates fun in learning.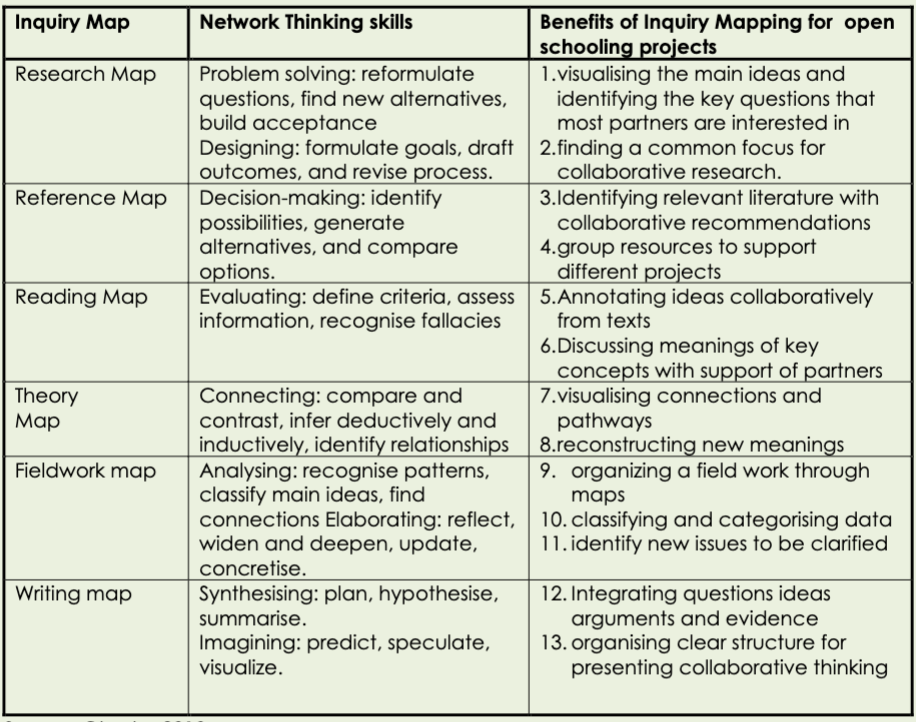 [Portuguese Abstract – Este artigo discute a Escolarização Aberta que é uma abordagem promovida pela Comissão Europeia para preparar os estudantes em cooperação com parceiros para desenvolver projetos sobre questões do mundo real e construir juntos um futuro desejável. Essa abordagem foi projetada para envolver todos os participantes na RRI – Pesquisa e Inovação Responsáveis (EC, 2015). O objetivo da RRI é alinhar pesquisa e inovação com as necessidades da sociedade e com os objetivos de desenvolvimento sustentável (UNESCO, 2015) por meio da interação de pesquisadores com cidadãos. A Escolarização Aberta para a RRI é considerada uma abordagem interativa para ajudar os jovens a desenvolver conhecimentos, habilidades, atitudes e valores para o século 21. Este estudo apresenta algumas contribuições quanto ao uso de mapas de investigação (OKADA, 2006) como método participativo de pesquisa-ação para envolver múltiplos parceiros em uma rede aberta. Este estudo exploratório, apoiado por um conjunto de exemplos da literatura, fornece recomendações para o desenvolvimento de mapas de investigação para projetos de escolarização aberta em rede e facilita a diversão na aprendizagem.]