Author: Alexandra Okada
The  Open Schooling together pre-conference event took place   on June 1st  as part of the 2022  ECSITE European Conference in Heilbronn Germany, led by Maria Zolotonosa (co-founder of Stickydot) and supported by Alix Thuillier from ECSITE.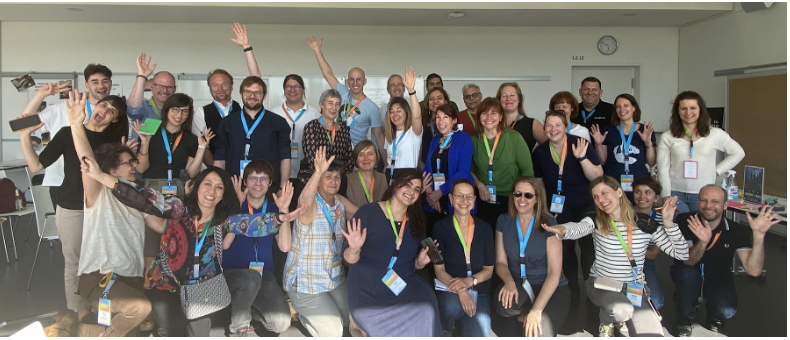 The Open Schooling Together is a group of eleven consortiums funded by the European Union to innovate school education. Our goal is to help schools become agents of well-being. Students are engaged to solve real-life problems through the cooperation between teachers, science professionals, families, and community members.
The objectives of the workshop were:
To gain inspiration and reflect together about new methodologies of learning
To discuss challenges as well innovative pedagogical tools to find solutions
The invited speakers who presented their projects and run interactive activities with the attendees were from
2023 MIO: Maya Halevy, Chagit Tishler, Tamar Fuhrmann, Pam de Sterke
2023 SALL: Pavlos Koulouris, Claudia Aguirre     , Malvina Artheau, Didier Laval
2023 CONNECT: Alexandra Okada
2022 PHERECLOS: Torben Roug Eszter Salamon
2022 OSHUB:  Maria Vicente, Cristina Olivotto, Shaun Ussher, Brendan Owens
The event started with two engaging strategies.
1. The Pecha Kucha session invited each project to present itself in a 6 min 66 seconds presentation with 20 slides and 20 seconds per slide.
The MIO project presented by Maya provides 16 learning scenarios and open schooling navigator. She also announced the new MOOC in development The project inspires schools with  communities to "Brief, Research, Make, and Share".
The SALL project presented by Matteo Merzagora focuses on living labs.  This refers to an open innovation methodology, user-driven where people are key actors of the innovation process. The project is centred on food  and inspires schools with  communities to "Cocreate, explore, experiment, evaluate"   in real-life
The PHERECLOS  project presented by Cyril offers six local educational clusters. It is designed to create new opportunities for educational landscapes, based on interconnected and innovation-geared activities. In this context, Children's Universities takes the role of mediation and translation between the sectors to accelerate learning.
The OSHub project presented by Cristina Olivotto supports schools and local stakeholders to use research and innovation a tool for tackling local challenges and contributing to sustainable community development. The OS Hub is composed by Broker Team, Schools, Local Challenges and local stakeholders. The project offers a Course Handbook for teachers and promotes a long term engagement with schools.
The CONNECT project presented by Alexandra Okada embeds open schooling in the mainstream curriculum underpinned by the CARE–KNOW–DO framework. This approach aims to help students engage with real-life issues that they care about, create the need to know about and also opportunities to do science in their lives and society. The project offers open resources, learning scenarios, self-assessment tools for teachers and students, video library, best practices, policy report and fun participatory tools to increase  students' engagement, confidence and  aspiration so that "science is for them"
Second, the Tools carrousel – round 1 where we will be sharing innovative educational tools we developed.
This activity was delivered in 4 sessions of 15 min for 4 different groups that rotated across 5 project tables.
In CONNECT, Alexandra created a game for educational providers to select a set of four cards to implement open schooling based on: (1)   students' need, to be linked to (2) teachers' need, then (3) select a resource and (4) science-in-the-news to engage families and scientists. Each card was a piece of a puzzle to be built on a board that contained 4 questions. All cards included a QR code linked to a real multimedia digital resource. After players completed the puzzle and explored the resource they were invited to create a card or a set of 4 cards to be added to the game related to their own OS projects. The activity was developed in pairs and took 8′ minutes. Then during the last 7′ minutes players discussed their initial insights, which means,  suggestions for improvement, potential benefits, and barriers. Some insights about the gamification activity shared by players were, for example, 'the game will be useful for knowledge exchange'. It could be used for 'building capacity', 'teachers' training', 'running a workshop event', 'public engagement', and 'exploring opportunities for learning design'.
There were two  external guests that provided some insights for   evaluation and research.
Marc Fuster, Research Analyst at OECD Centre for Educational Research and Innovation talked about "OECD schooling scenarios schools as learning hubs". He presented some insights from the report "Back to the Future of Education" OECD (2030) and highlighted the four OECD Scenarios for the Future of Schooling: McClellan,
School extended, an international collaboration to expand formal education
Education outsourced, more diverse with digital technology
Schools as learning hubs, schools connected to their communities
Learn-as you go, education anywhere anytime
"By 2040 schools remain, but diversity and experimentation have become a norm.  Opening the school walls connects schools to their communities favoring ever-changing forms of learning, civic engagement, and social innovation" (OECD, 2020
Open Schooling part of Open Education is key that means integrating open collaboration, open teaching, and open educational resources as well as open assessment – all supported by enabling technologies. The OECD report mentioned three arenas for re-schooling congruent to open-schooling: the pedagogical core of the learning environment, learning leadership, schools as learning organisations, and partnerships working with stakeholders to enhance innovation. Some interesting links were shared: www.dialogrede.es, www.brookings.edu
Evaluation to support evidence-based policy has a vital role. From this session there is a question for OS projects evaluators to reflect on innovation: "How are innovating in terms of: 1.resources, 2. content,3.teaching/learning process, and 4. teachers and learners' profiles?
Comments from the audience were useful to reflect on how evaluation could support OS learning environments to enhance flexible cooperation between different types of educators (teachers, parents, professionals, and community members in open education). For that, there are some requirements necessary, for example, formative feedback tools for teachers and learners as well as formative evidence analytics for learning leadership. These should be connected also with learners' achievements and progress through portfolios, open badges, best practices, information systems, and data management.
Another reflection was related to 'Building capacity through partnerships is key which starts with students' evidence of learning'. The cycle starts from the expected outcomes and is coherently co-designed, delivered, evaluated, and improved.  I found this congruent with the theory of backward designs (Wiggins and MicTighe, 1997) which highlights the first step to identifying the desired learning results, then determining the acceptable evidence, and finally planning the teaching instruction for significant learning experiences.
Jeffrey McClellan, founding principal of MC2 STEM High School in Cleveland, "Innovate – Enrich – Engage" opened this talk with an engaging question " what would happen if the city became the campus for a public STEM high school? McClellan then provided various examples and a short video about  MC2 STEM High School.
The STEM high school started in 2008, and is part of the new and innovative school system and its campus is the city of Cleveland. Key features of the school are mastery learning and authentic STEM experiences with a trans-disciplinary project-based approach. In terms of the pedagogical model, the school adopted various approaches, for example, real-world experience, partnerships, FABLAB, content-in-context, community, and business internships, and mentoring.
His initial presentation was followed by a discussion ' can this model be replicated? "  McClellan then introduced three drivers: motivation,  engagement, and self-management, and compared with four barriers: behaviour, complexity, cost, and time.   
Two key aspects have then been highlighted the curriculum of big questions and  self-organised learning environments supported by formative assessment