| | |
| --- | --- |
| Clip: | Gerald Gardiner |
| Duration: | 00:01:10 |
| Date: | 1973 |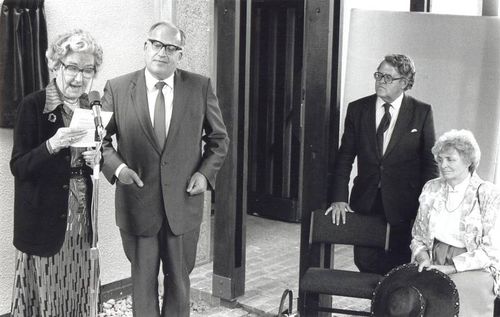 | | |
| --- | --- |
| Image : | Gardiner Building Naming Ceremony |
| Date: | 12-06-1986 |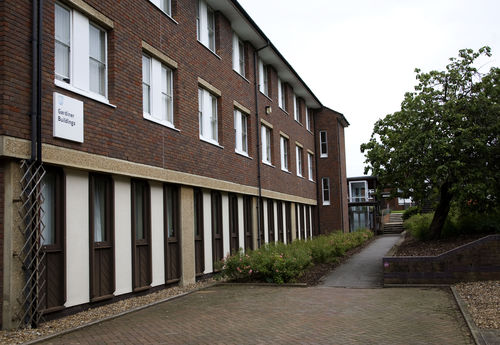 | | |
| --- | --- |
| Image : | Gardiner Building |
| Date: | 2008 |
13. Gardiner Building
Named after the second Chancellor of The Open University (1972-1978), Lord Gerald Gardiner of Kittisford (1900-1990).
Gerald Gardiner was born in London and educated at Harrow School. Gardiner became a barrister but in the Second World War joined the Friends' Ambulance Unit and served with, and finally commanded, its sections on the Western Front.In 1960 one of Gardiner's notable legal cases was winning an acquittal for Penguin Books for publishing Lady Chatterley's Lover by D. H. Lawrence, following prosecution under the Obscene Publications Act (1959). Gardiner was a long-term campaigner for law reform.
Gardiner had joined the Labour Party in the 1930s and stood unsuccessfully in the 1951 general election. In 1963 Harold Wilson nominated Gardiner for a life peerage and, after the Labour victory in 1964, appointed him as Lord Chancellor, where his greatest achievement is said to the radical reform of the court system. He appointed the first woman High Court judge and was involved in paving the way for the Divorce Reform Act (1969), alongside numerous other reforms. As joint chairman of the National Campaign for the Abolition of Capital Punishment, the reform he was said to be most proud of was the suspension of the death penalty for murder in 1965 and its abolition in 1969. Gardiner retired as Lord Chancellor in 1970.
Lord Gardiner was appointed as OU Chancellor after the sudden death of The Open University's first Chancellor, Lord Crowther, in 1972. He was installed at the University's first graduation ceremony, held at Alexandra Palace in 1973. After he accepted the Chancellorship he himself enrolled for, and successfully completed a three-year degree course in Social Sciences at the OU, graduating in 1977. He regularly attended study centres and participated in student activities, where he was known only as a student.
The Gardiner Building opened in 1985 and was occupied by the Social Sciences Faculty. It was officially named in 1986 by the then Chancellor, Asa Briggs. Lady Gardiner also attended the ceremony. Gardiner Building 2 (Offices 3) opened in 1992.
The video on this page is a clip of Lord Gardiner at his first official event as Chancellor, the Mace ceremony in 1973.
The first image on this page shows the Gardiner Building naming ceremony in 1986. The second shows the Gardiner Building in 2008.
Gardiner to Meacham (page 1 of 5)