In this bonus summer post, Jennifer Shepherd, Chair of the Faculty of Arts and Social Sciences team in Ireland, shares a behind-the-scenes glimpse into the Open University's partnership with the John Hewitt Society's annual Summer School.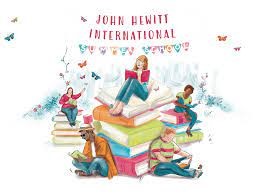 What does summertime mean to you?
For me, it's festival time.
Each summer, I find myself in the picturesque cathedral town of Armagh, Northern Ireland at the Marketplace Theatre, home to the annual John Hewitt International Summer School. Now in its 36th year, the festival is hosted by the John Hewitt Society, established to celebrate the legacy of local poet, art historian and social activist John Hewitt.
Hewitt's legacy is everywhere in evidence here in Armagh in late July, as a diverse group of writers, visual artists, musicians, political commentators and social entrepreneurs gather to celebrate the power of story to explore some of the most pressing social issues we face today on the island of Ireland.
It's warm and unpretentious and full of surprises.
One day the mainstage hosts eminent Irish playwright Frank McGuiness, sharing the wit and wisdom of a literary career spanning over 4 decades; another day finds bestselling crime writer Denise Mina discussing her take on hard-boiled crime fiction; still another, a round table of political commentators and journalists pitch ideas for engaging citizens meaningfully in the Northern Ireland political system.
Everywhere there's story, whether it takes the form of images – such as Nigel Swann's haunting photographs of the 'Yellow Star' houses of Budapest – or music, provided by award-winning folk artist Jack Warnock.
As an OU academic based in Northern Ireland, I have the pleasure of managing a partnership with the John Hewitt Society on the delivery of the Summer School. It's a natural fit since the Open University has much to offer local conversations around politics, history, and creativity.
Collaborating with the John Hewitt Society for the last decade has allowed the Open University in Ireland to showcase the incredible quality of our teaching and research, particularly in the area of creative writing.
It's a pleasure to meet festival-goers during the week who have signed up for workshops led by OU writers – this year, we were joined by novelist Heather Richardson, and poets Nessa O'Mahony and Siobhan Campbell. Festival-goers are full of praise for our teachers, noting that OU writers really 'see' each student and bring out the very best in them and their writing.
'Oh, you're with the OU,' is how I'm often greeted when I introduce myself in the busy foyer between events—because if there's a proverbial zero degrees of separation in Ireland, the same holds true here for the Open University.
At the local book vendor's festival stall, a man tells me his friend is studying on the new English Lit MA and really enjoying it. I encounter a woman at the OU pop-up stand who confides that she's already got a place reserved on an MA programme and wonders if she can get further details.  Another man lingers over the OU leaflets on display and tells me a long story about a professional life that took many unplanned turns. He always wanted to study law but never got the chance – did I think it was too late for him? A former OU student of my own waves from across the crowded foyer and makes her way over for a catchup and selfie.
She reminisces fondly about her first OU module and grins at the memory of her debut at an Open University open mic night, the first of many engagements over the years as an accomplished poet and flash-fiction writer.
And maybe this is what I like most about my annual pilgrimage to Armagh each summer: to see the power of story at work in unexpected places.  While speakers on the mainstage are inspiring us with tips for master storytelling or compelling new visions for a shared future in Ireland, I'm seeing something just as exciting at my Open University pop-up stand. People talk about their daily lives and, when they do, I get a glimpse of the way in which OU study allows people to write new futures for themselves and shape the story of their own lives in fresh and exciting ways.
Originally from Canada, Jennifer Shepherd completed her PhD at the University of Alberta and post-doctoral fellowship at the University of Hull. She is a Senior Lecturer and Staff Tutor in the Department of English Literature and Creative Writing at the OU. As chair of the FASS team in Ireland, she is responsible for facilitating local knowledge exchange and engagement opportunities, as well as maintaining partnerships with Ireland-based organisations which include the John Hewitt Society, the Belfast Book Festival, and Dublin/Belfast Culture Nights.