Thursday, November 4th, 2010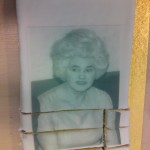 Approaching 50 current and former staff and students gathered in the Library yesterday to discuss elements of the Open University's history. Opening Up The Open University generated a lively debate on issues such as  how successful the University has been in being 'open', the relationship between technology and pedagogy, and the impact the OU has had on the world of higher education more broadly.
Those attending also took the opportunity to celebrate Jennie Lee's 106th birthday, with a cake featuring her photograph. In true OU multimedia style, the day was peppered with audio and visual clips, including from the recently concluded Oral History Project. See other blog posts for more details.