Tuesday, August 7th, 2012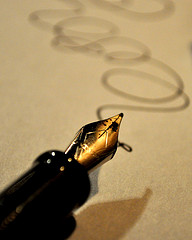 Should a public figure or institution be brave enough to wish, with the poet Robert Burns, 'to see oursels as ithers see us', the cartoonist's art is likely to remind them of another adage: be careful what you wish for. 
The British Cartoon Archive at the University of Kent provides a window onto the ways in which people and organisations have been portrayed through the ages.  As a national institution, The Open University hasn't evaded capture by the caricaturist's ink.  This group of cartoons evokes an evolving pen portrait in which the 'University of the Air' lived up to its name in at least one respect: it was difficult to pin down in a visual medium.  With no substantial image of its own, the OU was not so much used as a target for satire in its own right, as a means for cartoonists to satirise some of their more 'usual suspects'.  Groups of people and themes caricatured via their association with the OU included politicians, television, students, changing social mores and class aspiration.