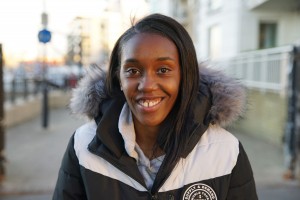 After an up and down start with her education, Allana Francis-Ashmeil had given up the hope of gaining higher education qualifications. She had a strong passion for sport, especially football and wanted to be able to continue her coaching job in the sports field whilst also pursuing her career further. Allana was told about the OU by her mum and although she had her reservations she signed up for the Foundation degree in Sport and Fitness. Whilst studying for her degree it was necessary for Allana to gain some other qualifications along the way including her level 2 coaching badge. Allana claims her OU studies gave her a massive confidence boost, so much so that alongside her studies she also started her own business, STL (Sky's the Limit) London which encourages young people in her community to achieve their dreams.
"After a very up and down road with education, including learning I was dyslexic and failing my first year of university at Canterbury Christ Church University, I had given up hope of gaining a higher education qualification. I was convinced university wasn't for me. I have always had a strong passion for sports, especially football. I am currently playing and am vice-captain of AFC Wimbledon Ladies Reserve Team.
I wanted to be able to continue to work in my sporting field but also pursue my career as a sports coach as well as follow other ideas I had pending for my future.
When studying the sport and fitness with coaching degree it was compulsory to have a level 2 coaching certificate. Prior to the OU I never had any interest in coaching badges, but I am now a level 2 coach and I am looking to do my level 3 next year. The value it added to my CV is evident as I am now a full time P.E and Sports teacher at a prep school in South London. Having coaching badges and a degree has enhanced the experience I have in sports by a great amount.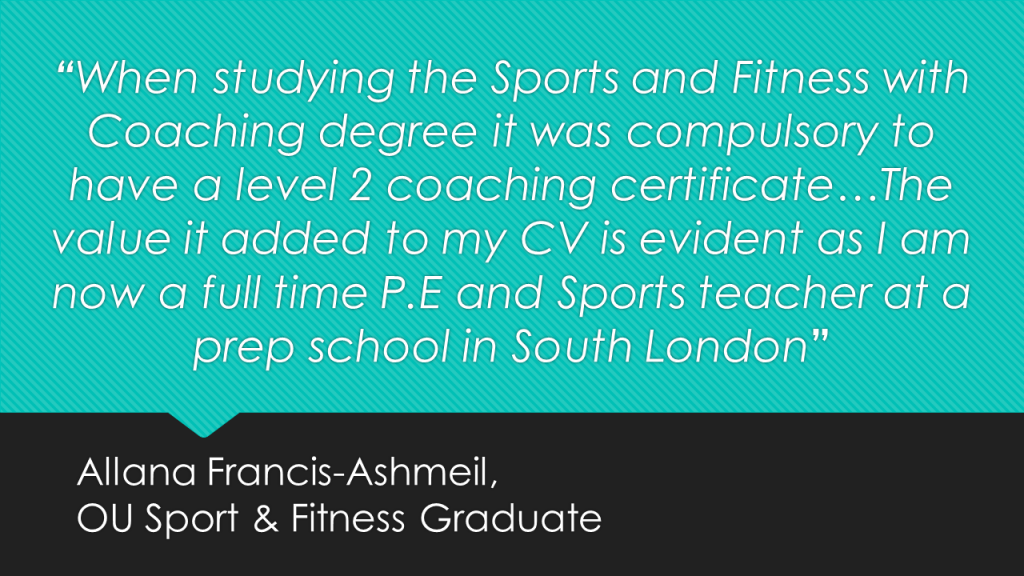 I ensured my job accommodated the fact that I was studying. Working as a sports coach meant I had regular mornings and weekends to get my studying and wok done. I would dedicate at least 3 days a week to university work. I also made sure my employers were aware of my studies this was important as it made sure I wasn't overloaded with work hours.
The OU has taught me time management, organisation, patience and persistence. These are lifelong skills that are going to stay with me in all aspects of life and my career. The OU experience taught me that anything is possible and no matter who you are or where you're from your dreams are achievable.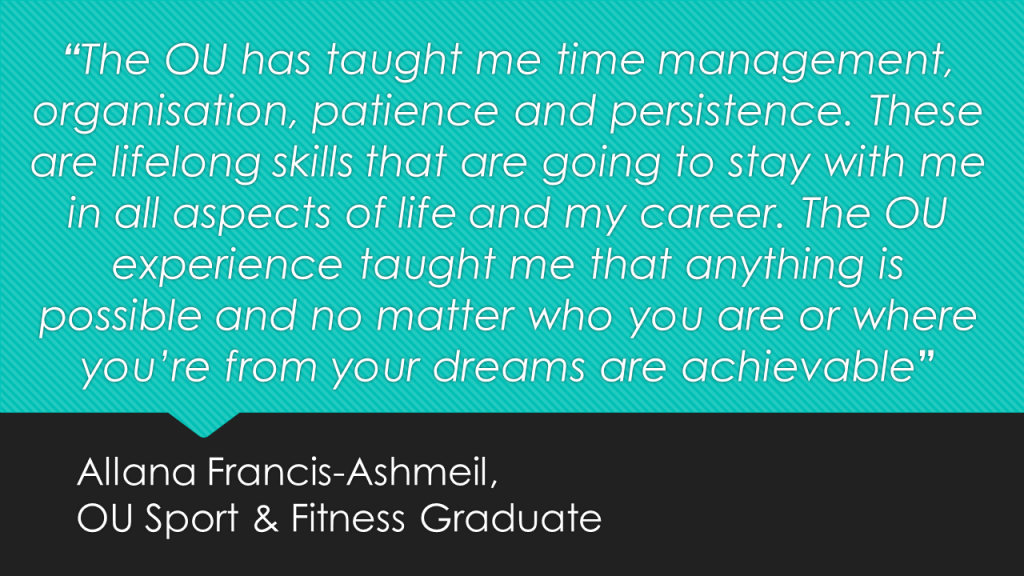 I have always had a love for the arts. When I was younger I was a student at Italia Conti studying Musical Production. As well as sports and the arts I also love working with children and young people. In November 2012 I landed the opportunity to work in a year in Ernest Bevin College, an all boys secondary school, alongside studying my apprenticeship for a CASHE Teaching Diploma. I worked in the Performing Arts Department at Ernest Bevin College, as I already had a personal love for the subject it fuelled the passion even more.
I was offered the opportunity to work on a solo project with students of my choice. I decided to write, produce, direct and choreograph a play that incorporated dance. The production was entitled 'The block' which focused on a group of friends at a crossroads in their lives as they were leaving college and becoming young adults. I casted nineteen boys aged between 13 and 15 and the play was performed to a public audience of fifty. It was a huge success and raised over £100 for Trail Blaizers, a charity I chose, who work with young offenders bettering their lives. We were fortunate enough to have the chief executive of the company present in the audience; she gave a public speech and also had a 1 to 1 session with the cast, discussing what the charity does and how their raised funds would help. 
The amount of positive feedback I received pushed me to start my own company that provided a platform for children and young people in the community who held a passion and talent in the performing arts industry. The company would provide workshops, events and showcases for young people to be a part of, building on their confidence, self-worth and involving the community in the generation of the future. 
In October 2013 I went to a Bright Ideas Trust Event, this company is founded by Tim Campbell OBE, the first winner of Lord Alan Sugar's 'The Apprentice'. This event was aimed at young entrepreneurs to meet like-minded people. I met Tim Campbell and had the chance to network with a lot of business people. I was shortlisted to pitch my business idea to Margaret Mountford, the chairman of the company, who is also a close friend and employee of Alan Sugar. A week after the event I was contacted by Bright Ideas Trust informing me that Margaret Mountford had loved my business idea and put it forward to the company for them to invest in my idea. Bright ideas Trust then put me through a 3 stage process where I had to complete a business plan, cash forecast and pitch on two different occasions to executives and the start-up business loan team. After 3 weeks I was successful and approved of the loan amount I requested. I am now part of the Bright Idea's Trust's successful candidate team. 
My company is called STL London. STL stands for Sky's The Limit, which is the slogan enforced in all the children and young people the company comes in contact with. Our first event was in November 2013, after the disaster of the Typhoon, the company played its part by raising funds for a children's charity.  STL London and 7 young people aged 8 – 14 went to Southbank London and performed dance routines and freestyle performances. In under 3 hours we raised £360 for the children in the Philippines and the money was donated to UNICEF, who donated balloons, t-shirts and a collection bucket to the company for the event. It was a great success and the positivity it had on the children who took part was amazing, they realised that their talents can be used to help others as well as themselves. The community response was amazing and we received many compliments and comments throughout the event.
The next event was Centre Stage, this is STL London's regular showcase which occurs at least once a year. These showcases are open to young people aged 5 – 21 years who have a talent for singing, rapping, dancing, poetry, comedy or performing. It is a public event which is open to the community to engage them in youth talent. It also is a platform for young people to express themselves positively enhancing the talents and gifts they process, enabling them to have a feeling of self-worth and importance. The first Centre Stage Showcase took place on January 11th 2014. We had over 13 acts who performed on the night. It was also the official launch of the company. The show was a huge success and has attracted the attention of many. It also featured in the Wandsworth Bright Side Magazine. Since then we have had 2 more shows and I am currently planning another one for next year.
I am very passionate about STL London reaching out to more children and young people. Next year I am planning a few new projects that will focus on encouraging more children and young people to pursue their dreams.  
I want to finish by thanking The OU for what they have done for me. I will always speak highly and proudly of this institution and I would love to be a voice that encourages people, who like me never thought they could, that taking this journey will be the best thing they could ever do."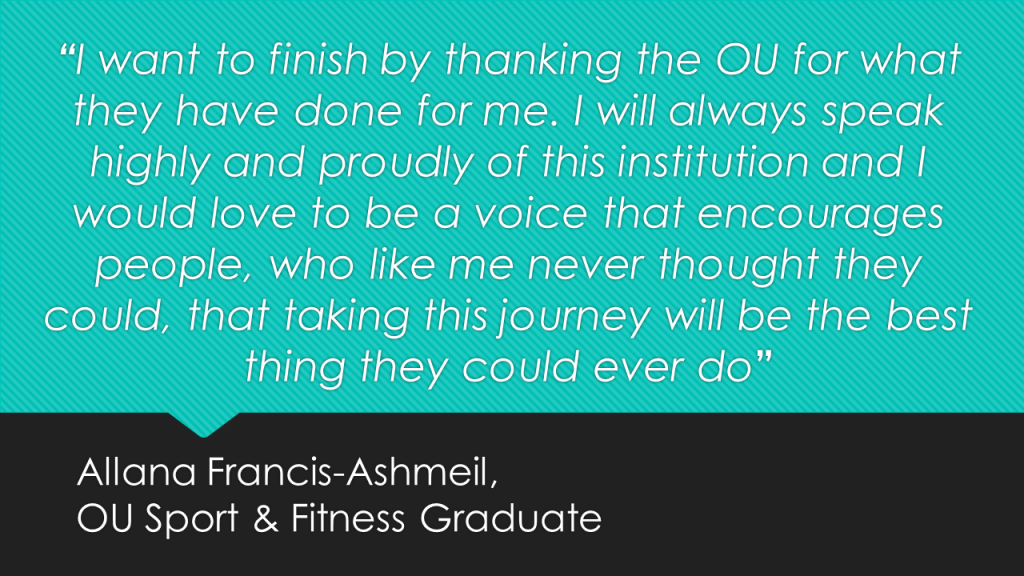 If you have been inspired by Allana's story and want to study sport and fitness at The Open University please visit the 'Study with us' section of this website.