On Wednesday 21st March 2018 the Open University Sport and Fitness Team will be hosting their 3rd annual conference. This year's conference will be exploring the contemporary issue of mental health in sport.
While top level athletes are often idolised and portrayed as figures of supreme physical and mental strength, more and more are speaking out about the mental health challenges they have faced. This conference seeks to raise awareness of mental health issues in sport and explore contemporary research in the field and strategies to support athletes.
Confirmed speakers
Olympic Gold Medallist (hockey) Helen Richardson-Walsh
Kitrina Douglas and David Carless (Leeds Beckett University)
Richard Bryan (Rugby Players' Association)
Jessie Barr (University of Limerick)
Click here to view the conference booklet and programme
Registration
** Registration for the conference is now closed, but we are hoping to provide a live stream of keynote speakers for OU staff and students on the day here and we will share some videos from the conference on this blog after the event **
To register for the conference please complete the online registration form on the link below. Details on how to pay for the conference can be found here.
The delegate fees are listed below: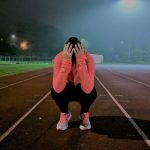 Standard = £110
Early bird = £100 (available up to Friday 12th January 2018)
Student = £50
OU Student = £20
(fee includes lunch and refreshments)
Oral and poster presentations
Academics, researchers, students and professionals are invited to submit abstracts for oral or poster presentations that relate to mental health in sport. We are particularly interested in submissions that relate to the negative impact of sport on mental health, rather than those that focus on sport and exercise as a strategy to improve mental health.
Please submit your abstract (maximum of 250 words) on the form below to:
WELS-Sports@open.ac.uk
Competing in the Dark Conference – Abstract Submission Form
Deadline for oral presentation abstracts = Friday 5th January 2018
Deadline for poster presentation abstracts = Sunday 4th February 2018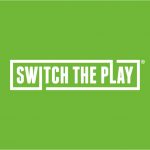 There is a prize worth £100 for the best poster presentation (sponsored by Switch the Play)
Advertising opportunities
Opportunities are available to advertise in the conference programme and abstracts booklet, which will be provided to all delegates. For more information on this please contact WELS-Sports@open.ac.uk
Conference updates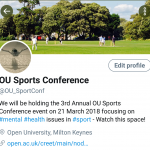 To keep up to date on conference developments please follow us on Twitter @OU_SportConf