By Inspire team – Corey Johnson, Joseph Bolton, Darcy Skelton and Gavin Macdonald (E119 18J Students)
---
This blog was written as part of a collaborative team work task by students studying E119. They had to select a topic and then decide on what roles each person would perform in the team, such as researcher, writer, editor and leader. This blog was chosen as one of the four best blogs from around 80 blogs that were produced.
---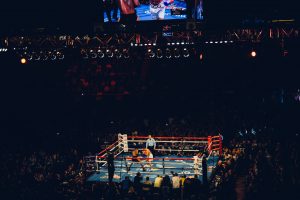 Boxing. The 'Sweet Science' of sport. It is often regarded as a macho man's profession in which there is no place for the weak. However, having said that, in the modern day it is now becoming more prominent that boxers are suffering from inner, more personal fights of their own – Depression.
Sharkey and Gaskill (2013, p. 35) state that depression can be characterised as a collective of having low self esteem, as well as a sense of hopelessness and never ending despair. One man as of late within boxing who has suffered from such an ordeal is former WBA (Super), WBF, IBF and IBO World Heavyweight Champion, 'The Gypsy King', Tyson Fury.
Recently, within the past year, Tyson Fury has been incredibly open about his ordeal with depression in the hope to educate others. He was the man who had it all – fame, money and a healthy family – but he also had his demons. When appearing on the Joe Rogan Podcast (How Tyson Fury Bounced Back From Depression & Addiction, JRE MMA Show #47 with Tyson Fury, 2018), Tyson recollected a story in which he was driving towards a bridge at 190mph in a convertible Ferrari which he had only recently just bought (Blair, 2018).
He stated, "I didn't care about nothing, I just wanted to die so bad. I gave up on life but as I was heading to the bridge I heard a voice saying, 'No, don't do this Tyson, think about your kids, your family, your sons and daughter growing up without a dad."
It was at that moment Tyson decided that he needed to change not just for himself but for his family. The voice that had been putting him down throughout the years had suddenly switched and become the voice for change, to get his life back on track. In the years that followed he overcame many obstacles including battles against substance abuse, weight problems and against boxing authorities to obtain a boxing license.
His appearance on the podcast was to promote his major comeback fight against American Heavyweight boxer Deontay Wilder but it became something much more. Following the appearance he became the people's champion and an advocate for mental health. Fury's status grew furthermore after the fight against Wilder when he credited his renewed faith amongst other factors for his successful battle against his ill mental health.
Tyson Fury is a big name in the sports world who was affected by ill mental health. One boxer who was willing to talk to us about mental health in boxing was Team GB's Lewis Richardson. In an interview with him he stated that;
"Mental health is neglected in boxing due to the image of the sport. Everyone see's boxing being a macho sport and you have to be physical strong and fit however it is mentally tough"
Here, it is quite evident that due to the perception that modern day society has of boxing, issue such as depression and ill mental health are often overlooked. A lot of people don't truly understand what elite athletes like Lewis has to go through.
He went on to say, "Mental health issues can come into play particularly with big and pressure fights, as you go to bed thinking about your opponent and that fight is always on your mind until the fight is over."
From this you can see that fighters at any level can often put themselves into a negative cycle and frame of mind due to the obsession of the opposing boxer. The one thing on their minds is the fight, how can they combat their opponents' strengths and weaknesses to better their own chances of a victory.
He later added, "Pressure of making weight, pressure of winning, pressure of performing at training and afraid of losing are all factors that could affect mental health in boxers as it is business and the pressure on them is extortionate."
One key issue that could influence a negative episode could be the hype of positivity which ends up in negativity due to losing a fight or due to an injury in training. All these factors actually coincide with what Tyson Fury had to say himself. It is interesting to say that both boxers, who are going down two very different paths, both share similar beliefs in regards to such important matters.
Various studies show that depression effects one in every four people within the UK. Also, suicide as a result of depression is the biggest killer in males under the age of 45. The male to female ratio of death by suicide is 3:1, which is an alarming observation which needs to be addressed (Gigney, 2017). This is often the case due to the stigma surrounding men suffering from ill mental health and the lack of acceptance of the issue by the man himself.
In regards to sport, this issue is often escalated. This belief is supported by Sports Psychologist Dr Caroline Silby (Gigney, 2017) who, in an interview with Boxing World, states that;
"Elite athletes have a difficult time accepting emotional struggles and seeking assistance. However, once they do seek assistance they often apply their sports work ethic to their emotional recovery, making progress more likely."
This statement is backed up by Tyson Fury himself who decided the best to overcome his struggles was to box along is long journey of recovery. He openly admits that he still has his off-days in which he has some negatives thought but that is a fairly normal for somebody going through these issues.
Depression can take effect on anybody, no matter how big or small a person is. Boxing proves this, these elite athletes who are stereotyped to be 'macho men' can be brought down to rock bottom as a result of depression. However, one thing to remember is that if you, the reader, are going through a battle like this then you too can overcome it with the correct support.
Links for information on Mental Health support
NHS – https://www.nhs.uk/using-the-nhs/nhs-services/mental-health-services/how-to-access-mental-health-services/
Time to change – https://www.time-to-change.org.uk/mental-health-and-stigma/help-and-support
Mind – https://www.mind.org.uk/about-us/our-policy-work/sport-physical-activity-and-mental-health/
Reference list
Blair, A. (2018) Tyson Fury opens up on depression, boxing career and Deontay Wilder fight [Online]. Available at https://www.news.com.au/sport/boxing/tyson-fury-opens-up-on-depression-boxing-career-and-deontay-wilder-fight/news-story/54479d963a55b8da9c5ede2f86660f42 (Accessed on 29/01/2019).
 Gigney, G. (2017) LONG READ Boxing needs to address its mental health problem [Online]. Available at http://www.boxingnewsonline.net/long-read-boxing-needs-to-address-its-mental-health-problem/ (Accessed on 29/01/2019).
Joe Rogan – How Tyson Fury Bounced Back From Depression & Addiction (25/10/2018) YouTube video, added by JRE Clips [Online]. Available at https://www.youtube.com/watch?v=XrM6WqYEj9Y (Accessed on 29/01/2019).
JRE MMA Show #47 with Tyson Fury (25/10/2018) YouTube video, added by PowerfulJRE [Online]. Available at https://www.youtube.com/watch?v=vNZtibrPo0g (Accessed on 29/01/2019).
Sharkey, B. and Gaskill, S. (2013) Fitness and Health (7th edn). Leeds, Human Kinetics.