By Helen Owton
On Friday 7th June 2019, France will host the 8th edition of the FIFA Women's World Cup. Lyon is recognised as a city where sport is hugely popular putting football on the very highest pedestal which is an ideal location because the convenient time zone to attract large audiences means that women's football could hit even greater global heights of popularity. The hosts kick off the tournament against South Korea at the Parc de Princes (Paris) at 20:00 UK time. A total of 24 teams qualified for the tournament with the hosts being sorted into a group they are expected to win.
If you thought the FIFA WWC in Canada in 2015 and EURO 2017 was exciting Joey Peters says that this year, "…a new level of tactical sophistication is expected to evolve this tournament – not so much the tempo of the game but more how each team connects, adapts and thrives in such a pressure pot atmosphere." (Joey Peters, 2019).
The Groups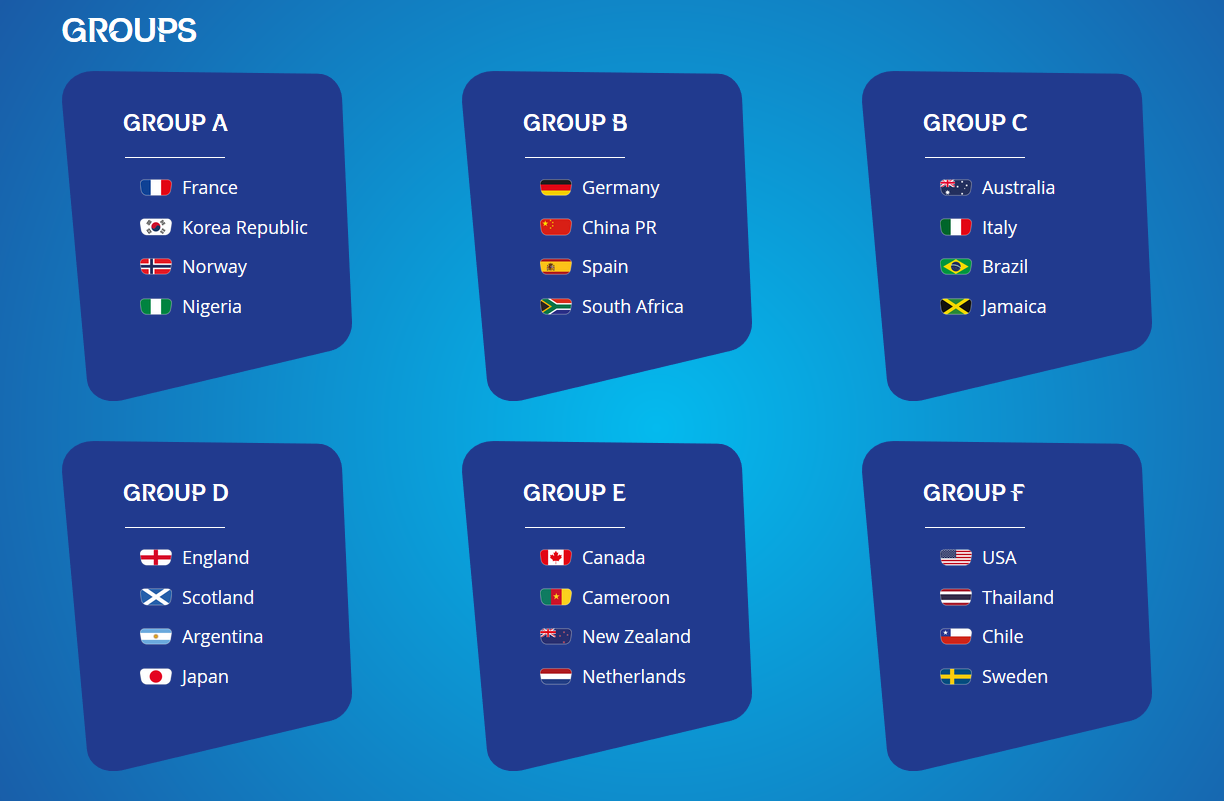 Locations
Since the FIFA World Cup in 2015 which was hosted in Canada, women's football has grown in popularity, visibility with the recognition of the ever-increasing reputation on women's football. Parc des Princes, home of Paris Saint-Germain, is the fifth largest stadium in France with the capacity of 48,583 but one its oldest and hosted matches in the 1998 men's World Cup. It is one of nine venues where 52 matches will be held:  the Stade du Hainaut in Valenciennes, the Stade Auguste-Delaune in Reims, the Stade des Alpes in Grenoble, Roazhon Park in Rennes, the Stade de la Mosson in Montpellier, the Allianz Riviera in Nice, the Stade Oceane in Le Havre. The final of the women's world cup will be played at the Parc Olympique Lyonnais in Lyon on 7th July which seats 59,186.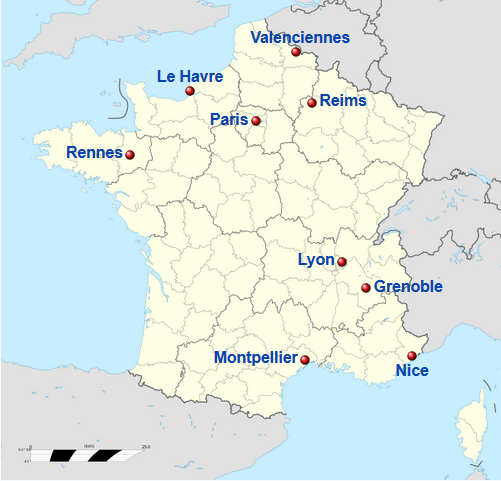 Dare to Shine
The motto behind the FIFA Women's World Cup is "Dare to Shine" which is a message spread by the official mascot Ettie and embodied by the official emblem. Ettie's name comes from the French word for star, étoile and links the passing on of the bright star from Footix, the brother mascot from the 1998 FIFA Men's World Cup. The message is that:
"Her enthusiasm for women's football is contagious and she hopes to radiate her sense of fair play and passion for the game around the world and to inspire national pride in France as the host country for the competition."
Media coverage
With the increasing popularity of women's football in the UK, there is exciting anticipation that the women's world cup is set to break new viewing records with the hope that a billion people will tune in.  BBC have exclusive broadcasting rights for this year's WWC and will be showing the games on BBC One, BBC Two, BBC Four, and the BBC Red Button and website. All the of the England games will be shown on BBC One and the schedule is available here.
Scotland
This year the FIFA WWC welcomes four newcomers to the tournament: Scotland, South Africa, Jamaica, and Chile. Scotland are ranked 20th in the world and their opening game is set to be an exciting one as they will be playing England in Nice on 9th June. This is the second major tournament that Scotland have qualified for after qualifying for Euro 2017. However, their new manager, Shelley Kerr, has a squad filled with Women's Super League players and if they can avoid injuries "Scotland could be a surprise package in France" (Suzanne Wrack, 2019). Whilst Kim Little is Scotland's star player, look out for the duo "Lime" and "Soda" on the team as well! Given this and their 1-0 defeat over Brazil (ranked 10th), England should not underestimate them.
Favourites
France (ranked 4th) are the favourites to win their group and progress to the knockout rounds and are among the favourites to win the whole tournament. They have a home advantage which we saw benefit Netherlands in EURO 2017 and their performances at previous world cups has seen them through to the quarter finals each time. This year, they enter the tournament having lost only 2 games so with the home advantage, a relatively easy group stage, and their winning performances so far Les Bleues are one of the favourites to win. Germany (ranked 2nd in the world) also enter the tournament with a strong winning streak of 13 along with twice Champions in 2003 and 2007. Germany have dominated the UEFA tournament wince winning in 1989 with an impressive 8 times Champions and only lost to USA 2-0 in the FIFA WWC semi-finals in 2015 so they are always ones to watch! Indeed, previous Champions include Japan (2011), Norway (1995), and the United States (1991, 1999, 2015) and as current holders, USA are another favourite to win again given that they have managed to finish at least third at a World Cup. As current European Champions, Netherlands are also among the favourites. Being a previous champion does not always make you a favourite, however, as Norway demonstrate this year entering the competition.
England
Many of us still remember England (ranked 3rd) making history in 2015, by beating Germany for an extremely well-deserved bronze medal at the FIFA Women's World Cup 2015. Many of the players demonstrate resilience as a team and have become a team of female role models and an inspiration to a younger generation. Since 2015, the team has not been without controversy but has been building on their success with their new manager. The country is ready to get behind the team again and you will see many familiar names and faces with Steph Houghton as Captain and Jill Scott and Karen Carney making their 4th World Cup. Also, we welcome rising stars to the field including Georgia Stanway (20yr old) who is "England's youngest player has the potential to be an X-factor."
Be ready to back England again!
Players to watch
There are a wide range of ages playing at this year's FIFA WWC so I am going to be watching both the youngest and the oldest players in the tournament. Mary Fowler, Australia, is just 16yrs old and is labelled as Australia's 'secret weapon' but many have questioned whether she will be able to step up to an international field and cope with the pressure. Paired with their Captain and top goalscorer Sam Kerr could prove an exciting and unknown development on the field which could surprise opponents. 25yrs older is Marta Formiga at 41yrs of age who plays for Brazil and will become the first footballer to participate in seven world cups, surpassing Onome Ebi's five world cups at the age of 36yrs old. It will be interesting to watch how age and experience play out on the field.
A Platform for change
The Women's World Cup is a phenomenal global event that everyone can enjoy but it is also deemed as a platform for change like many other sports. Germany's WWC advert has used the opportunity to create a video focusing on a "strong message of female empowerment and push for equality".
Additionally, Lucy Bronze (Lyon) who will be on familiar ground in France has used the opportunity to discuss how more could be done for women's football by addressing the pay gaps that still exist.  The existing gender pay in football is a stark and unexplanable gap and is the widest compared to other industries (e.g. politics, space, medicine) so it is really about time that FIFA addressed this inequality.
The more opportunities that are created for discussion the more that can be done to create change and indeed many of the women at the FIFA WWC are the change but now they just need that paid recognition.
Key Dates
First game starts: 7th June 2019 – France vs South Korea 8pm
England vs Scotland Sunday 9th June at 17:00 in Nice
How well do you know England & Scotland players: QUIZ
Fixtures: https://www.fifa.com/womensworldcup/
Final is on 7 July 2019