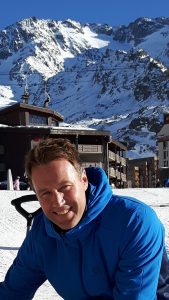 Nigel has been an Associate Lecturer at the Open University since 2009 and has tutored a range of modules within the sport and fitness programme. He has also authored several of the study topics including:
E112 – Introduction to Sport, Fitness and Management
• Study Topic 4: Training for Sport and Fitness
E217 – Sport and Conditioning Science into Practice
• Study Topic 4: Exploring Core Stability
• Study Topic 5: Strength and conditioning
E313 – Exploring Psychological Aspects of Athletic Development
• Study Topic 3: The Coach-Athlete Relationship
E314 – Exploring Contemporary Issues in Sport and Exercise
• EMA topic Overview: How does ethnicity influence participation and performance in sport
E117 – Introduction to Sport and Fitness
• Study Topic 6: Eating to Win
In addition to his work at the Open University he has worked as a personal trainer and fitness manager. Nigel has also worked as lecturer in sport and exercise in further and higher education and as a manager of a sport and outdoor education department. Currently, he undertakes a range of consultancy roles such as the authoring, development and external verification of sport and fitness qualifications.