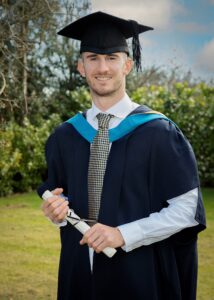 "Mum and dad trained as teachers, so I was always pushed in school. Even when football opportunities came, I was always pushed academically because the average length of a footballer's career is seven years.
I've been lucky enough to be in it for seven years now. Hopefully, I'll be able to play until I'm 35, but most players have to work so I always thought I need to plan for my future."
After completing a BTEC in sport, Dominic's older brother encouraged him to undertake a degree with the university.
"My brother had actually started his degree with the OU a couple of years before me. He said that the course was easy to understand and worked well around football.
We travel a lot, sometimes twice a week for away games, but even in a hotel room you can do your work. I like the fact that I had the flexibility to get on and do my work on flights or at different clubs but keep up with my workload.
My brother's degree was partly funded by the Professional Footballers' Association (PFA). They provide financial support to young players which is brilliant – it pushes players to do something in education. When it came time for me to do my degree, university fees had gone up but the PFA provided a bursary, which made it a lot more affordable as a young player."
At first Dominic found the course challenging but found his feet in his final year and really excelled.
"Initially, I didn't engage with my tutors or get involved in the student community, so I struggled for the first half of a six-year course. In one assignment I received 14 out 100 which made me think, I need to understand where I'm going wrong.
I started to engage with my tutors and other students, it made the experience more enjoyable. In my last year, I finally understood how to structure my essays and assignments – the penny dropped. I was averaging 70 per cent in my results."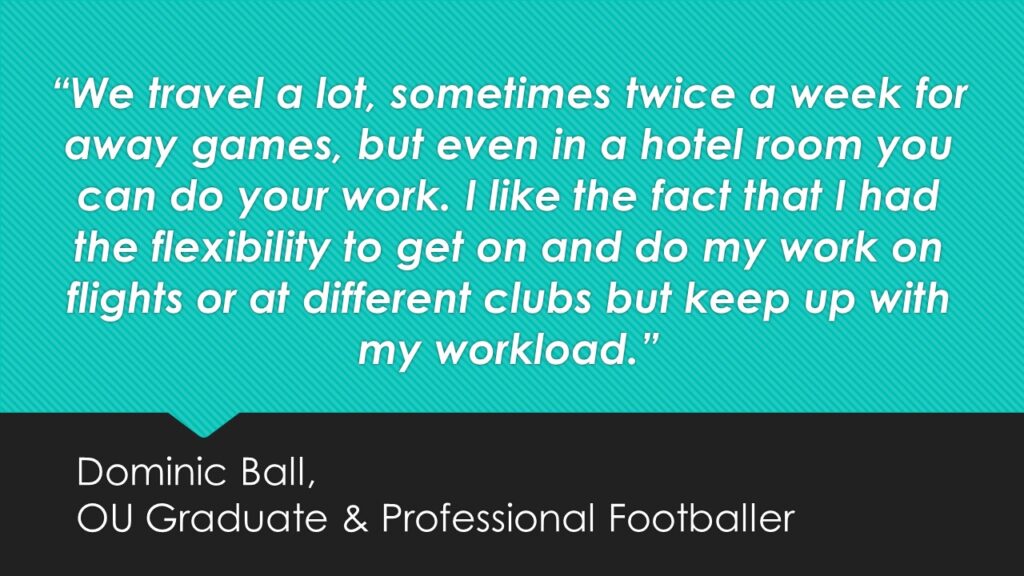 Dominic didn't experience the traditional graduation ceremony as he completed his degree during lockdown, but it was still a special moment for him and his loved ones.
"I organised a small celebration at home. I hired a photographer to take photos of me in my robes. It was a special moment – my girlfriend, my dog, and my mum and dad were there to help me celebrate.
All my hard work has paid off, which was a big moment for not only me but also for my parents. I would have loved to go to graduation, but we've all missed out on something this year, and I was just pleased to get my degree."
Now with a degree under his belt Dominic is hopeful for the future and plans to go into business after football.
"Football is my passion – I still have dreams of playing in the Premiership. But with my degree, I hope that in time I can set up a business, maybe something to do with football, so that I have a career long after my days on the pitch."