By Jessica Pinchbeck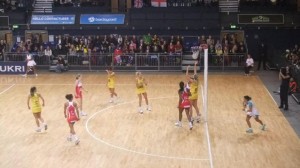 Netball is typecast by many people in England as an activity played by school girls often accompanied by the perception that it simply involves a bit of throwing and catching. It is traditionally thought of as a very slow and static game with the misconception that you have to stand still with the ball; which is possibly a reflection on how netball is commonly taught in schools. As someone who is passionate about netball I strive to challenge such views and educate people about the game.
After inviting some of my friends, male and female, to play in a mixed netball league they soon altered their opinion of netball as a nice gentle 'girlie sport' and came to appreciate the fast, technical and physical nature of the game. Netball requires tremendous athleticism in terms of strength, speed, agility and endurance, not to mention the control and balance required to execute ball skills at speed. It may be a non-contact sport on paper but this is far from the reality and it is not uncommon for players to collide in competition for the ball. Although the rules dictate that contact results in a penalty against the offending player it does not prevent contact from occurring. Most netball players have taken a few knocks and tumbles throughout their career (I know I certainly have!) and so a tough and resilient nature is a necessity. Acknowledgement should also be given to the less tangible components a netballer must possess such as spacial awareness, timing of movements and tactical knowledge. Not to mention the intricacies of operating alongside teammates, particularly in small units within the shooting or defending circle, which commands immense teamwork and communication skills. Introducing my more sceptical friends to the game certainly helped dispel some of the common myths as they soon discovered that there is indeed contact, it is undoubtedly performed at high-speed and that players can definitely move with the ball.
England Netball are working hard to change the image of the sport with their rebranding and as a result netball is fast becoming more popular, with national participation figures increasing by 30% over the last three years due to schemes such as Back to Netball. Sport England increased England Netball funding for 2013-2017 from £18.7m up to £25.3m stating that their rise in participation numbers 'showed an understanding of what women want from sport'. England Netball have 90,000 affiliated members and report that at least one million women and girls play netball every week. The latest Sport England Active People Survey shows netball as the 12th most popular weekly participation sport in England and the fourth most popular team sport. Due to the partnership between England Netball and Sky Sports netball is the only women's team sport gaining weekly television coverage showing matches from the Netball Superleague, of which viewing figures are consistently over 100,000. To try and improve the dynamic nature of the game as well as the spectator experience England Netball and the league committee implemented some rule changes at the start of the 2013 season specifically for the Superleague, such as the removal of the umpire's whistle following a goal or when the ball goes out of court. The Commonwealth Games coverage of the sport is an opportunity to build on the success of the Superleague and widen netball's viewing audience even further. So how are England predicted to perform at Glasgow?
The England netball team are currently third in the world rankings, after New Zealand and Australia. In Australia and New Zealand many of the top players are professional athletes with the Australia and New Zealand combined league (ANZ) paying players or offering scholarships with schooling. Currently many of the England squad play in the Netball Superleague although English players are now starting to leave the country to play professionally as players are able to earn a living and play their sport. England player Eboni Beckford-Chambers explains that the option of professional or semi-professional sport is something netball in England needs to address:
'It's one of the things in England we can build upon in terms of how the Australian community get behind their athletes and accommodate them. That's why we go away – because we can find that flexibility in terms of training all those hours but also working on a part-time basis so hopefully we can replicate that here.'
Bronze has been the highest achievement so far for the England Netball team with the last three Commonwealth Games ending in semi-final defeats to Australia. However having won their first ever test series 3-0 against the Australians in January 2013 the England team are determined to make the final this year, and if all goes well the gold medal. As England player Geva Mentor explains:
'I'm fed up with having a bronze: now I want a different colour…We have been talking the talk for many years but now I'd like to think this is the year we can walk the walk and show the world what England are all about.'
With netball yet to be included in an Olympics due to it not being played in enough jurisdictions Glasgow 2014 is a top opportunity for Team England to showcase the sport to the nation. England open their Commonwealth campaign on Friday 25th July against Wales followed by pool matches against Australia, South Africa, Wales, Trinidad & Tobago and Barbados. Hopefully this will be the competition that escalates both the perception and participation of England Netball not to mention gaining that elusive gold!