* The following blog includes material of a sensitive nature and may not be suitable for all readers
By Helen Owton & Lisa Lazard
2012 was a real breakthrough for victims who experienced child sexual abuse. Since the Jimmy Scandal in 2012, there has been a 71% increase in the number of reports of child sexual abuse. Nonetheless, it is disturbing to recognise the scale of the VIP sexual abuse inquiry which has highlighted a huge number of well-known, powerful people under investigation that includes 76 politicians, 135 TV film or radio figures, 43 from the music industry and 7 sports stars (and 9 sports venues). Whilst it seems shocking that many seemed to have been abused in settings where these vulnerable people should have been safe (e.g. schools, sports, religious institutions) perhaps it's worth considering how these environments (e.g. sport) are conducive to such forms of abuse and exploitation as well.
The World of Sport
We only have to go as far as the recent FIFA arrests to recognise that sport is not the clean, fair, functional, happy, hyped up field it presents itself as so it's becoming increasingly important to place these institutional structures under scrutiny. Indeed, a large body of research1-5 suggests that competitive sporting environments provide a unique socio-cultural context that offers possibilities for sexual abuse and exploitation to take place. In sport, the specific danger is the amount of power invested in the coach. Coaches (as perpetrators) can impose their version of reality on athletes (as victims) and isolate them from potential sources of support within that reality by controlling the psychological environment through direct emotional manipulation, psychological abuse, and the creation of a highly volatile, psychologically abusive training environment.6,7 Indeed, Brackenridge and Fasting (2005)8 comment on previous studies on what's known as the 'grooming process' in sport:
The previous studies suggest that, for the abuser, grooming is a conscious strategy. The athlete, on the other hand, is usually an unwitting party to the gradual erosion of the interpersonal boundary between her and the coach. The power afforded to the coach in his position of authority offers an effective alibi or camouflage for grooming and abuse. Incremental shifts in the boundary between coach and athlete go unnoticed, unrecognized or unreported by the athlete until the point where she has become completely entrapped and is unable to resist his advances. (p. 37)
A recent paper9 presents a story about "Bella" and the dynamic relationships between three main types of coaches.4 These types were:
The Flirting-Charming Coach characterised by always flirting, joking, trying to touch and so on
The Seductive Coach went further and was characterised by trying to 'hit on everyone'
The Authoritarian Coach who was also powerful and used his power as well as being characterised as having psychological/psychic problems and often had a degrading and negative view of women in general.
Sometimes, stories in the news offer us some comfort that perpetrators of child sex abuse are 'abnormal' – 'mad', 'bad' and even monsters. However, this makes them harder to identify. This doesn't sit very comfortably with the large scale pattern of child abuse. Whilst the moral panics sell newspapers, it does point to some difficulties of how we can make sense of child abuse. How can abuse be so widespread if perpetrated by an 'abnormal' minority? The idea of a cover up of widespread abuse by public figures and people we trust is certainly insidious but it is all too easy to talk of these events as committed by people who are 'deviant'. The panic and fear this creates often results in a restriction of where young people can go and what they can do, particularly for girls and women.
To make sense of child abuse, perhaps we need to think through what allows young people to be treated as 'vulnerable'. The answer is undoubtedly complicated but the unequal position they find themselves in relation to all adults is something that deserves some focus.10,11 This existing power between victim and perpetrator (e.g. athlete and coach) occurs in the context of structural power relations within institutions (e.g. sport) which often operates using top down hierarchical forms of authority. In this sense, children are subjected to overlapping forms of power that makes them vulnerable.
Britain has turned a blind eye to child sexual abuse for too long in previous years but so have structures that serve to protect institutions; these structures, rules, procedures and norms of violence towards women within institutions (e.g. sport) need to be subjected to scrutiny as well for things to really change.12
Video: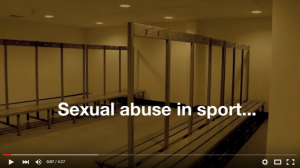 References
Brackenridge C. (2001). Spoilsports: Understanding and Preventing Sexual Exploitation in Sport. Routledge: London.
Bringer, J., Brackenridge, C. H., & Johnston, L. H. (2002). Defining appropriateness in coach-athlete sexual relationships: The voice of coaches. Journal of Sexual Aggression, 8, 83-98. DOI:10.1080/13552600208413341
Burke, M. (2001). Obeying until it hurts: Coach-athlete relationships. Journal of the Philosophy of Sport, XXVIII, 227-240. DOI:10.1080/00948705.2001.9714616
Fasting, K., & Brackenridge, C. (2009). Coaches, sexual harassment and education. Sport, Education and Society, 14, 21-35. DOI:10.1080/13573320802614950
Parent, S. (2011). Disclosure of sexual abuse in sport organizations: A case study. Journal of Child Sexual Abuse, 20, 322-337. DOI:10.1080/10538712.2011.573459
Leahy, T. (2010). Working with adult athlete survivors of sexual abuse. In S. Hanrahan and M. Andersen [Eds.]. Routledge handbook of applied sport psychology: A comprehensive guide for students and practitioners. London: Routledge, pp.303-312.
Leahy, T. (2011). Safeguarding child athletes from abuse in elite sport systems: The role of the sport psychologist. In D. Gilbourne and M. Andersen [Eds.], Critical essays in applied sport psychology (pp.251–266). Champaign. IL: Human Kinetics.
Brackenridge, C., & Fasting, K. (2005) The grooming process in sport. Auto/Biography: An International and Interdisciplinary Journal, 13, 33-52. DOI: 10.1191/0967550705ab016oa
Owton, H. & Sparkes, A. Sexual Abuse and the Grooming Process in Sport: Learning from Bella's Story. Society, Education & Sport (in press).
Gavey, N. (2005). Just sex? The cultural scaffolding of rape. London: Routledge.
Warner, S. (2005). Understanding the effects of child sex abuse. London: Routledge.
McCray, K. (2014). Intercollegiate Athletes and Sexual Violence: A Review of literature and recommendations for future study. Trauma, Violence & Abuse, 1-6.