By Caroline Heaney
With the Women's Football World Cup now into the knockout stages football fans will be preparing themselves for the prospect of a penalty shoot-out or two. Penalty shoot-outs are rarely missing from a major tournament and in fact the last Women's World Cup was won by Japan on penalties.
England fans have a love-hate relationship with the penalty shoot-out. The excitement of a penalty shoot-out is unquestionable, but England teams are not renowned for their success in penalty shoot-outs. The men's team have had several exits from major tournaments at the hands of a penalty shoot-out (e.g. 2006 World Cup, Euro 2012) and the women's team exited the 2011 World Cup after losing to France on penalties in the quarter final stages. So what is it about the penalty shoot-out that makes it so intense?
The penalty shoot-out in a major tournament is probably one the most highly pressured situations in football; the stakes are high and the margins for error are small. Additionally, the personal accountability of individual players is probably higher than in any other situation in football, where normally responsibility is collectively shared. No-one wants to be the player responsible for their team exiting a major tournament, and history shows that unsuccessful penalty takers are often 'scapegoated' and ostracised by their national media. Interestingly it appears to be the penalty takers rather than the goal-keepers who tend to fall victim to this negative media attention, perhaps due to the expectations of a penalty shoot-out: penalty takers are expected to score and goal-keepers are expected not to stop them. Obviously when a goal-keeper makes a winning save they become a hero in the eyes of the media, but rarely are they subjected to the same media condemnation as a player who misses a penalty when they fail to save a penalty.
As a result of this teams often focus a significant amount of effort on preparing for the possibility of a penalty shoot-out, and the England women's team have been reported to be doing just that. Psychology is certainly a significant factor in the penalty shoot-out. As a sport psychologist I like to watch a player prepare to take a penalty and predict whether they will be successful – there are certain psychological cues that are indicative of the outcome. Researchers have investigated these and have identified various factors that can influence the success of the penalty shoot-out. Some of these are explored in our penalty shoot-out game: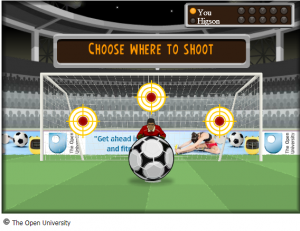 Click here to play our penalty shoot-out game
As with most tasks, confidence is key. A player who is confident and believes that they will score is more likely to do so. There is no room for doubt in a penalty shoot-out. Confidence can be seen through visual cues such as eye contact. A player who lacks confidence may avoid making eye contact with the goal keeper. Good goal keepers recognise these signals and will draw strength from an opponent who won't make eye contact. Additionally, a successful penalty taker will normally take their time and not rush. Rushing can be seen as a sign of panic, whereas someone who waits is giving themselves time to compose themselves before executing the skill, perhaps utilising psychological techniques like imagery and positive self-talk before taking the penalty kick. A player may use imagery to rehearse taking a successful penalty in their head before taking it and may use positive self-talk to enhance their confidence and focus.
Experience is obviously an important factor for penalty takers. Players who have previously successfully taken penalties and won penalty shoot-outs are more likely to be confident in their ability to take a successful penalty. The reverse of that however is that those who have had bad experiences are less likely to be confident, which goes some way to explaining the serial penalty shoot-out defeats seen in teams such as the England and Holland men's teams – the culture of expecting to lose a penalty shoot-out perpetuates. Research by Jordet revealed  that success rates in penalty shoot-outs are considerably higher for teams who have won their last two penalty shoot-outs compared to those who have lost their last two shoot-outs (89% versus 57%), even if the team membership is changed. Interestingly 'higher status' players, whilst likely having more experience to draw on, are sometimes less successful in penalty shoot-out situations; perhaps because the pressure of expectation is far greater for them than for players of lower status.
This shows that the successful penalty taker is one who is highly confident and copes well with pressure. Next time you watch a penalty shoot-out, watch the players prepare and see if you can predict whether or not they will be successful.