The challenges of being a parent while studying must not be overlooked, says Helen Owton
With student tuition fees in the UK increasing, part-time study for young and mature students might start to become a more viable and feasible option, particularly for those students who have children.
"Student-parents" are usually working part-time, with many juggling studies, family life and maybe other caring responsibilities. This all means that student-parents might fall between two stools, being neither a "traditional" student nor a mature student. Academics need to be supported by institutions to empathise with these unique circumstances – particularly if they are to become more commonplace.
Whatever the individual circumstances (young, mature, disabled, single), being a student-parent can mean a slow, time-consuming and strenuous adjustment phase when starting university. This varies from student to student.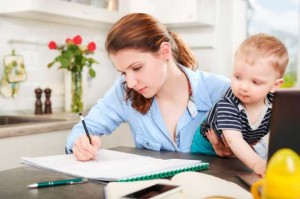 Many have been out of education for longer than five years, which can mean that becoming a student again can be a daunting experience. For example, as a mature student parent, they might feel anxious about intellectual insecurity, feel "uncool" or different, and have the additional pressures of managing the guilt of juggling parental responsibilities with study. Meanwhile, younger student-parents who have not been out of education for such a long time (particularly if they became pregnant during their studies) may face a different set of challenges such as overcoming stigma.
Either way, the transition into higher education – where there are significant shifts in lifestyles – can be a challenge. Institutions cannot assume that all their students are living in an academic "bubble", waiting to enter the "the real world"; they are living, and have to breathlessly juggle studies and other commitments that can lead to emotional and financial hardship.
Unfortunately, many university protocols don't necessarily accommodate the lives of students with children. For example, timetabling has been identified by the NUS as a significant source of stress for 87 per cent of student-parents.
Childcare is the greatest source of angst for most student-parents, because of the financial and the organisational demands. Half-terms can be of particular stress, especially during Christmas when there are fewer clubs and greater family demands (usually during a time when students are expected to be preparing for exams). Planning childcare can be time-consuming, long-winded, expensive and challenging.
It's clear that student-parents have much greater demands on them than other students without these responsibilities, so it's important for universities to encourage this group to seek out support as much as they can. But the support has to be there. More universities could create websites (such as this example from Newcastle University) that signpost student-parents to the most up-to-date resources available.
Where new structural developments are taking place, institutions should take the opportunity to build spaces, or crèches, for accessible and affordable childcare on campus.
Student-parents are an enthusiastic, motivated, purposeful and inspiring group of students who achieve in the face of adversity, but they might struggle and go off the radar – this is when lecturers can help remind student-parents of why they are studying. That can keep them motivated. As one student-parent said to me: "Sometimes just knowing someone is there, knowing the support is there if I need it, is enough."
Helen Owton is author of Studying as a parent: A handbook for success.
Article originally published in Times Higher Education. Click here.