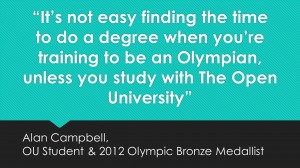 Alan Campbell is an Olympic rower competing for Great Britain and is also studying for an OU degree. Alan's coach encouraged him to think about his future after rowing and so Alan enrolled onto a degree in Leadership and Management. Having a competing career as an athlete whilst also trying to complete his studies has not been without its challenges, but Alan is due to complete his studies in 2016 and compete at his 4th Olympics games in Rio.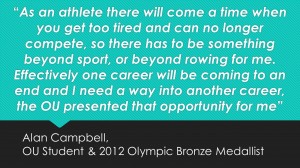 "My rowing coach, Bill Barry, was the person who encouraged me the most to study. He's a businessman himself and had a business background outside of rowing. He's an Olympic silver medallist from 1964 but realised that rowing will come to an end one day. As an athlete there will come a time when you get too tired and can no longer compete, so there has to be something beyond sport, or beyond rowing for me. Effectively one career will be coming to an end and I need a way into another career, the OU presented that opportunity for me.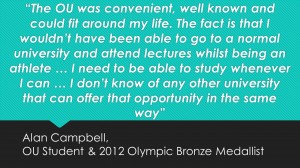 The OU was convenient, well known and could fit around my life. The fact is that I wouldn't have been able to go to a normal university and attend lectures whilst being an athlete. My life involves attending training camps around the world and I've got a family at home, so I need to be able to study whenever I can and not when someone else tells me to study. I don't know of any other university that can offer that opportunity in the same way and at the same level.
My OU experience so far has been a very positive one. It's a degree and it's not easy – it's a hard thing to fit around an already busy life, but you've got to make time for it. There are times when I've had to cram work in at the last minute, times when I've been up very late and I shouldn't have been because I had rowing the next day. There have been times where I've found it very frustrating but I've always felt like I've been well supported. I seem to be getting good marks and doing well at the same time.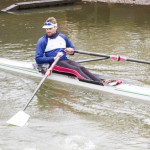 I've had to contact the tutors previously for extensions, which I've fully utilised, and sometimes for a re-mark. What I like about the OU tutors is that they haven't all come from a purely academic background, they are from business backgrounds and a lot of them still work full time in their field and the OU is part time for them. I've found whenever I've asked them questions related to my course they are talking from personal experience too – this is something I've always found much more helpful.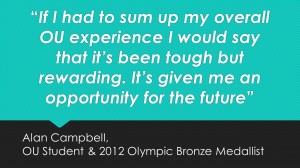 If I had to sum up my overall OU experience I would say that it's been tough but rewarding. It's given me an opportunity for the future.
My advice would be to have a look at degrees you like the look of and to start with level 1 courses and certificates – they really give you an insight into what studying is like. I feel like my degree will open up a lot of opportunities for me and that people will notice the OU degree. Unlike a lot of other athletes, I didn't finish my degree first time around – I started an Engineering degree before I left to go rowing. But my OU degree will be relevant because it'll be more recent. I'll come out of rowing in 2016 after Rio, which will be my 4th Olympics, and will finish my degree in 2016 too."
If you are interested in studying sport and fitness at The Open University please visit our 'Study with us' page.